Slideshow Archive
Nanotubes help healing hearts keep the beat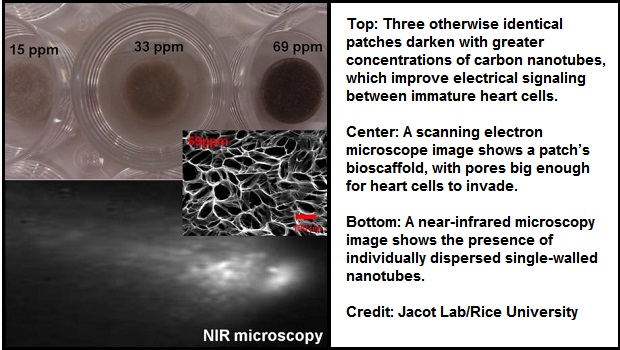 Carbon nanotubes serve as bridges that allow electrical signals to pass unhindered through new pediatric heart-defect patches invented at Rice University and Texas Children's Hospital. (Learn More >>)
NanoArt's Tiny Masterpieces
The Wall Street Journal features images from the third International Festival of NanoArt. (Learn More >>)
Graphene sensor will let us see through walls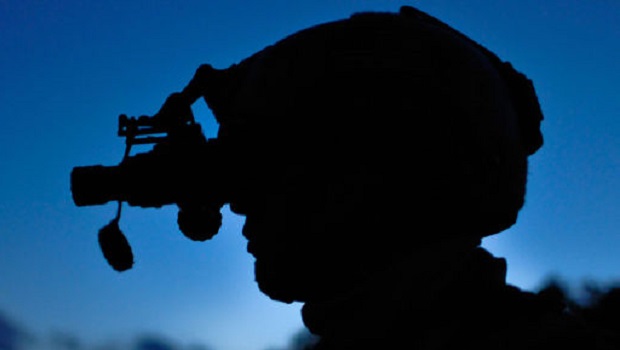 A team of researchers from the University of Maryland recently developed a graphene-based sensor that lets people see through walls. (Learn More >>)
Atom-Sized Construction Could Shrink Future Gadgets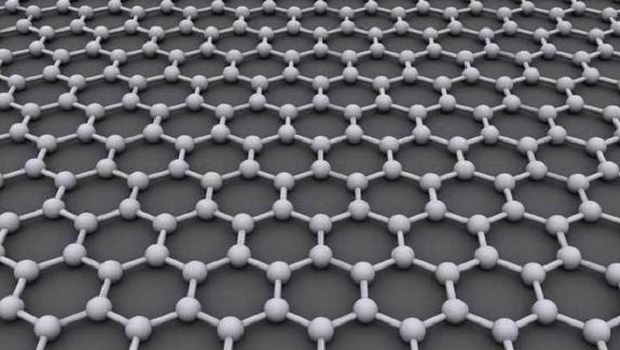 The Pentagon's recently launched Atoms to Product (A2P) program aims to develop atom-size materials to build state-of-the-art military and consumer products. (Learn More >>)
UMass patch would spot stressed-out soldiers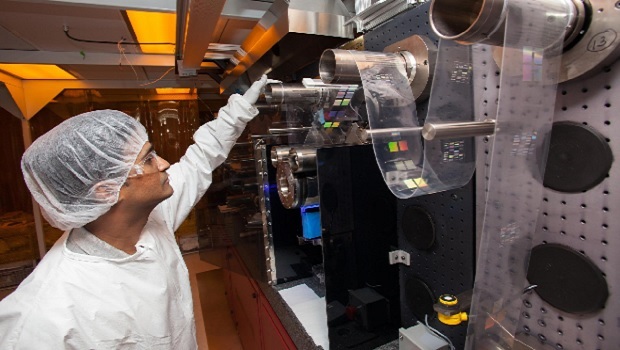 Based on research from the University of Massachusetts Amherst, armed services personnel may soon have access to wearable health monitoring technology, in the form of a wearable sensor that would gauge stress and fatigue. (Learn More >>)
NREL bolsters batteries with nanotubes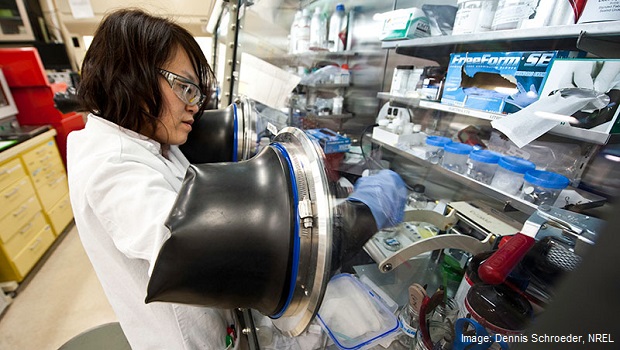 Researchers at the Energy Department's National Renewable Energy Laboratory (NREL) are turning to nanotubes and rods to boost power and durability in lithium-ion batteries, the energy sources for cell phones, laptops, and electric vehicles. (Learn More >>)
3D Printed Nanostructured Materials Are Strong, Light, Have Many Uses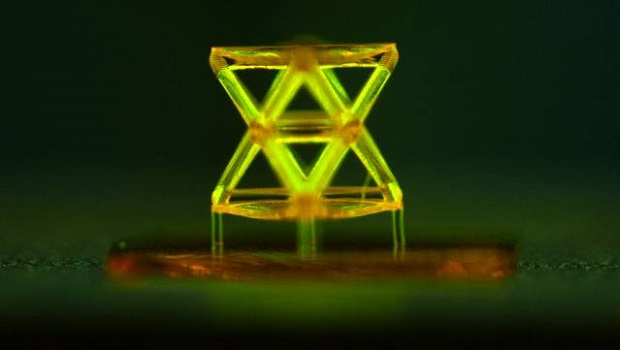 Engineers at MIT and Lawrence Livermore National Lab have devised a way to translate that airy, yet remarkably strong, structure down to the nanoscale — designing a system may set new records for stiffness for a given weight. (Learn More >>)
NY Times: Nanosilver May Help Provide a Path Away from Antibiotic Resistance
An NC State biomed professor tests a nanosilver-coated bandage on a persistent infection from a bug bite, instead of taking a course of oral antibiotics, and it worked. (Learn More >>)
Drug-Delivering Nanomotor is 500 Times Smaller Than a Grain of Salt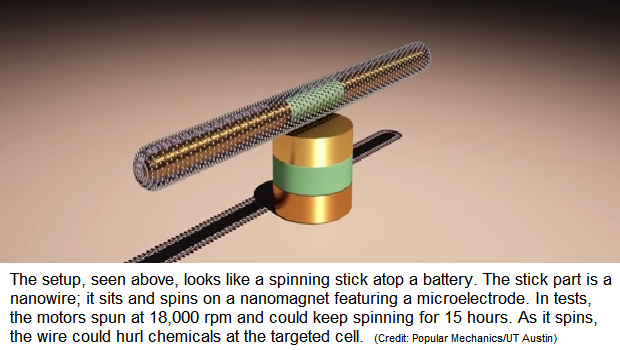 A group of engineers at the University of Texas have developed what they are calling the smallest and best such nanomotor ever built. (Learn More >>)
The business potential of (amazing, wonderful, futuristic) graphene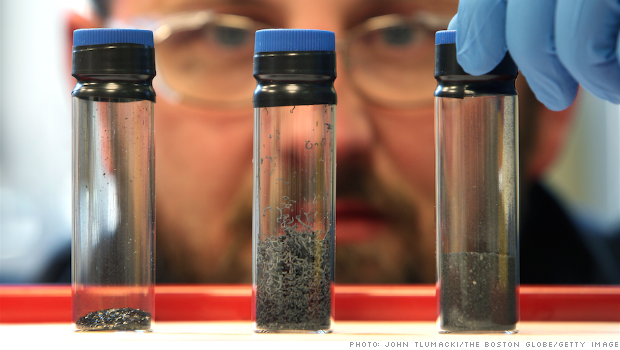 Fortune magazine reports: It's a better conductor. It's transparent. It's lightweight. It's strong. It's flexible and elastic. Can it change the electronics business? (Learn More >>)
New Apparel Could Ward Off Chemical Weapons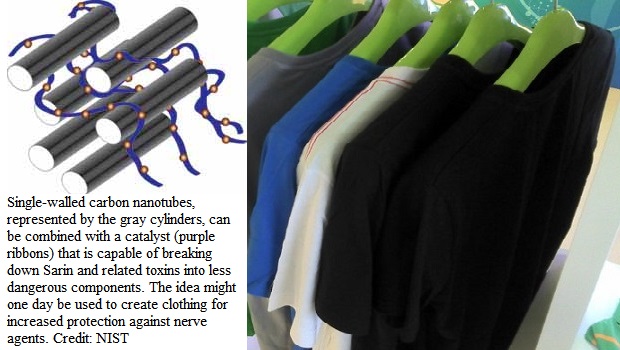 Scientists at the National Institute of Standards and Technology, an NNI-member agency, engineered the nanotubes to hold a copper-based catalyst that breaks down a key chemical bond in nerve agents. (Learn More >>)
Scientists made color-changing paint out of gold nanoparticles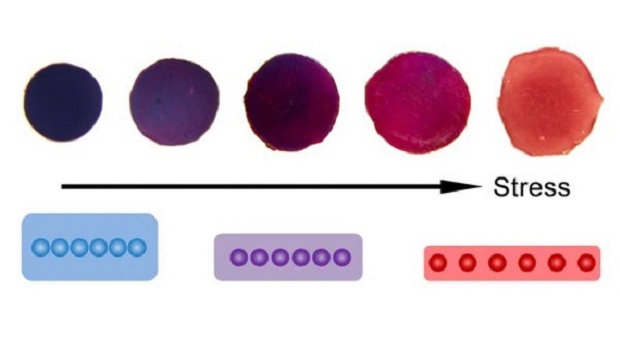 These sensors made of gold nanoparticles change colors as you press on them. They can be painted on or applied like a bandage, and they convey differences in pressure at certain points of impact. (Learn More >>)
MIT attempts to thwart counterfeiters with nanocrystals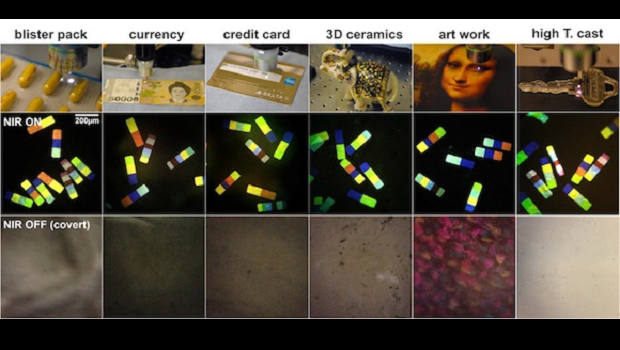 MIT researchers created anoparticles that come in a range of customizable colors, can be embedded invisibly just about anywhere, and can be authenticated using nothing more than an accessorized smartphone. (Learn More >>)
Targeting Cancer with a Triple Threat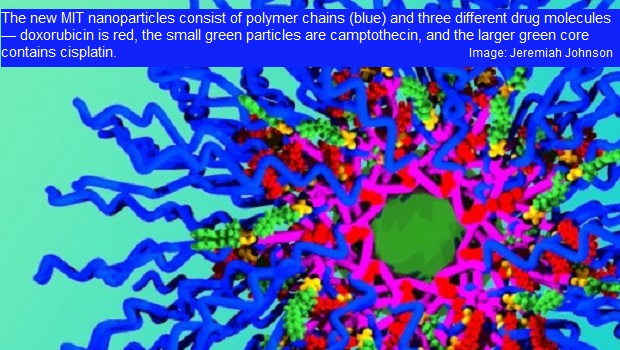 MIT chemists have devised a new way to build nanoparticles that can carry and deliver precise ratios of three or more different drugs. (Learn More >>)
Popping nanoballoons to fight cancer
Developed by researchers at the University at Buffalo, these miniscule particles can deliver anti-cancer medications straight to the tumor itself, without causing unwanted damage along the way. (Learn More >>)
Engineers design 'living materials'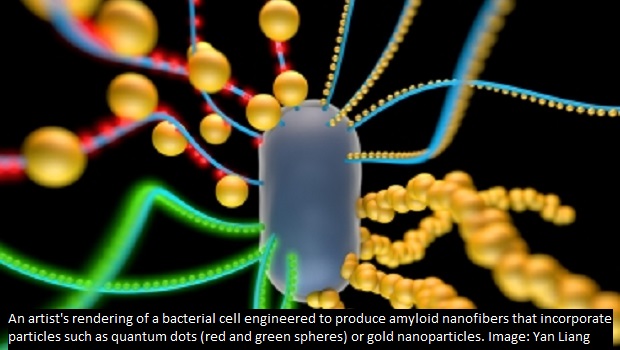 MIT researchers created hybrid materials that combine bacterial cells with nonliving elements that can conduct electricity or emit light. (Learn More >>)
NanoDays Being Celebrated at More Than 200 Sites Nationwide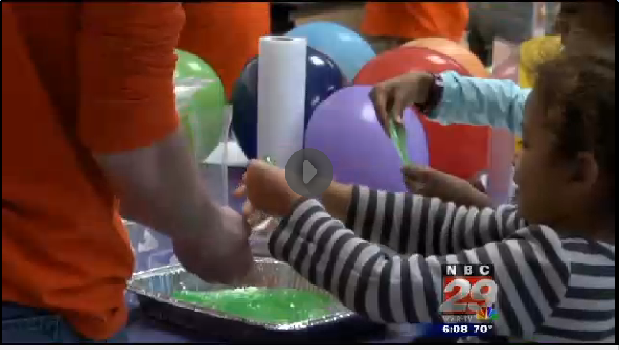 UVa's Nanoscience Institute opened its labs over the weekend to visitors as part of NISE Net's NanoDays program. (Learn More >>)
NNI-Sponsored "Best Use of Nanotechnology" Award Goes to Hyde Park Middle School!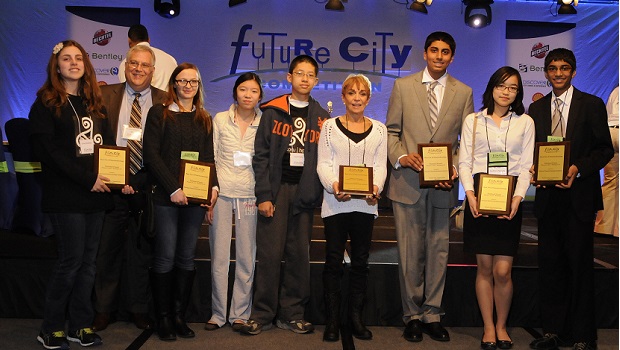 Congratulations to Nevada Southern's Hyde Park Middle School for winning the NNI-sponsored Future City Special Award for the "Best Use of Nanotechnology" with their city Koru. (Learn More >>)
Market report on emerging nanotechnology now available
NSF and NNCO-funded independent study identifies more than $1 trillion in global revenue from nano-enabled products in 2013. (Learn More >>)
Graphene Microbattery Ushers in New Age for Biotelemetry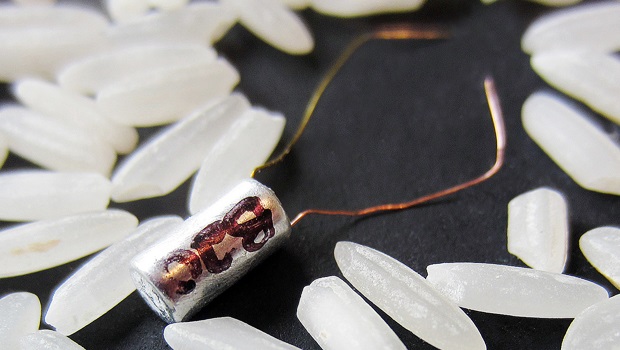 Researchers at Pacific Northwest National Laboratory (PNNL) have created a battery that has successfully been used in monitoring the movements of salmon through rivers. (Learn More >>)
Graphene conducts electricity ten times better than expected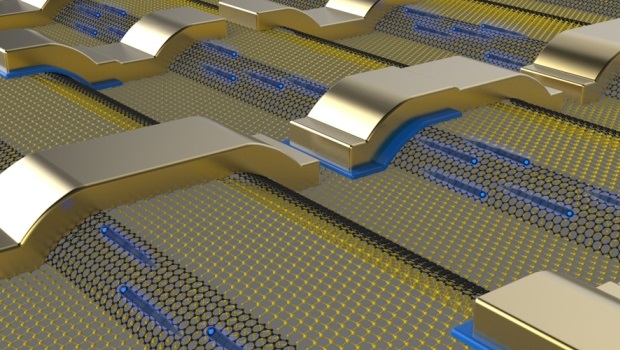 This finding could help graphene realize its promise in high-end electronics, where researchers have long hoped it could outperform traditional materials such as silicon. (Learn More >>)
Flexible device harnesses the power of your beating heart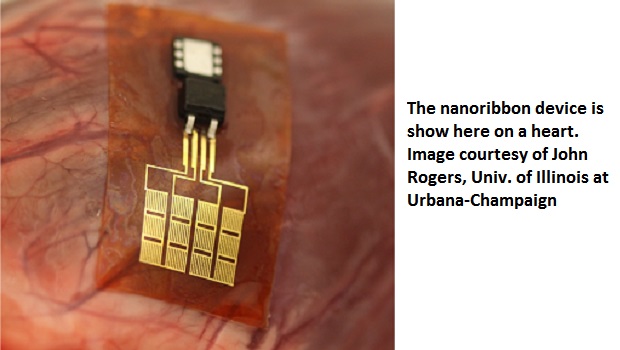 Researchers created nanoribbons which were placed on a flexible silicone surface that could be put on an organ and move as it moved. (Learn More >>)
Carbon nanotubes promise improved flame-resistant coating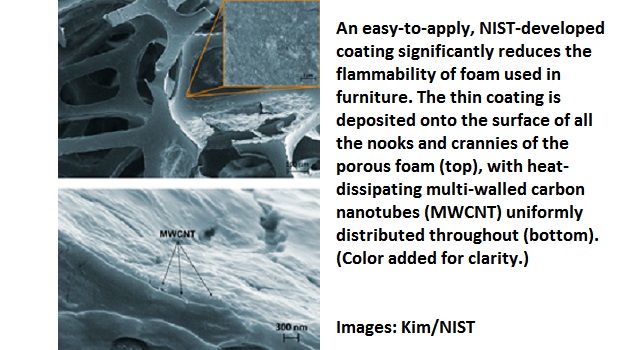 NIST researchers have succeeded in crafting a uniform, multi-walled carbon nanotube-based coating that greatly reduces the flammability of foam commonly used in upholstered furniture and other soft furnishings. (Learn More >>)
World's Fastest Thin-Film Organic Transistors
Researchers created thin-film organic transistors that could operate more than five times faster than previous examples of this experimental technology. (Learn More >>)
Vapor nanobubbles rapidly detect malaria through the skin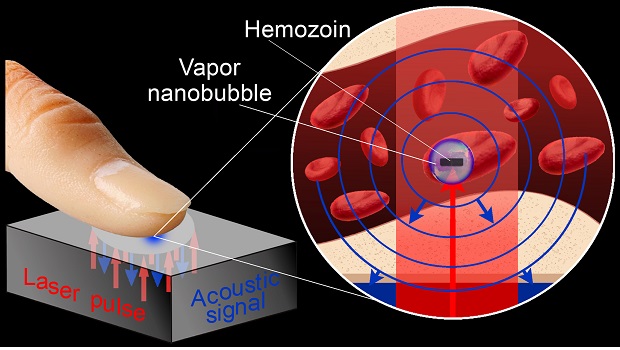 Researchers at Rice University have developed a noninvasive technology that accurately detects low levels of malaria infection through the skin in seconds with a laser scanner. (Learn More >>)
Scientists grow liquid crystal "flowers" to use as lenses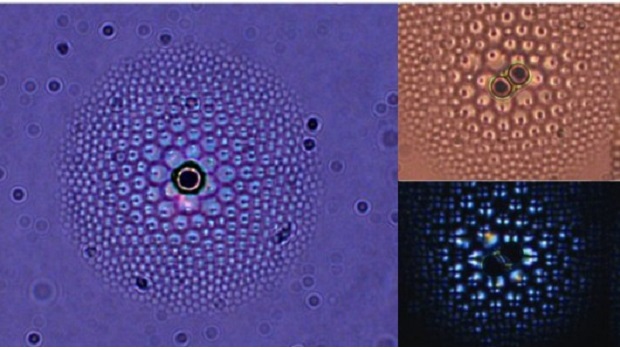 This represents a significant step forward in "directed assembly," where scientists build minute structures by specifying starting conditions and letting physical and chemical processes do the assembly work, instead of doing it themselves. (Learn More >>)
'Walking' DNA motor on nanotube tracks could someday deliver drugs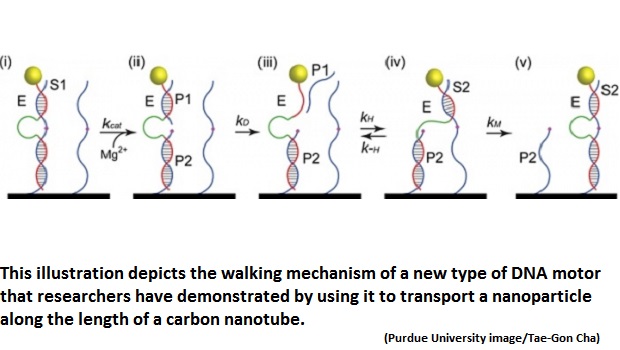 By changing its shape and binding to consecutive parts of the tube's surface, these natural molecules are able to travel as far as a micrometer (1,000 nanometers) by taking steps of 8 nanometers at a time. (Learn More >>)
Graphene: Growing Giants
NIST researchers discovered a new substrate for growing graphene, which holds promise for faster internet speeds, cheaper solar cells, novel sensors, space suits spun from graphene yarn, and more. (Learn More >>)
Scientists ID new nanocatalyst for cleanup of nitrites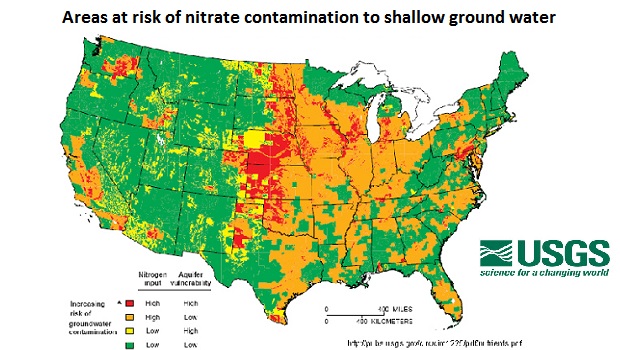 Chemical engineers at Rice University have found a new catalyst that can rapidly break down nitrites, a common and harmful contaminant in drinking water that often results from overuse of agricultural fertilizers. (Learn More >>)
New nanoparticle opens doorway to oral treatment of chronic diseases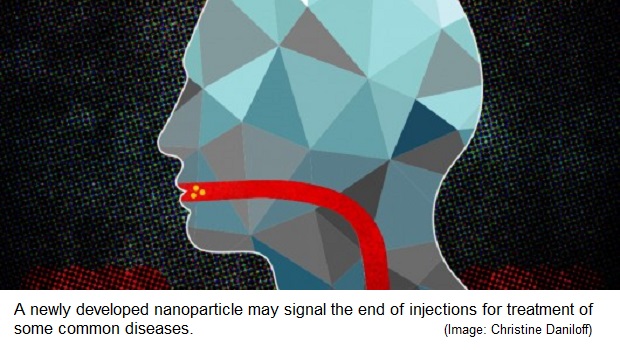 A team of researchers from MIT and Brigham and Women's Hospital has developed a new type of nanoparticle that could afford patients the choice – potentially making uncomfortable injections a thing of the past. (Learn More >>)
MIT Freshman Wins Smithsonian's American Ingenuity Award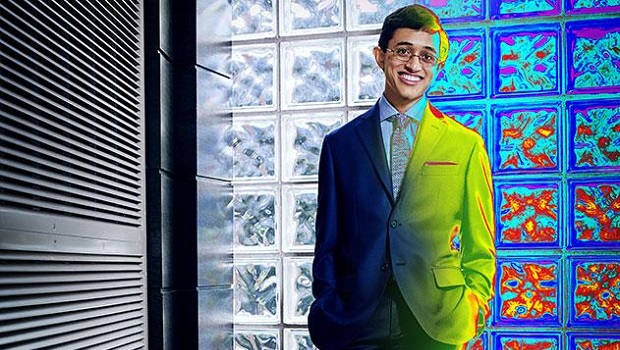 Bandyopadhyay created a nanoscale infrared detector, which could reduce car crashes by allowing vehicles to sense each other in darkness, detect land mines, and monitor global warming. Unlike other infrared sensors, it operates at room temperature. (Learn More >>)
NASA material engineers are experimenting with atomic layer deposition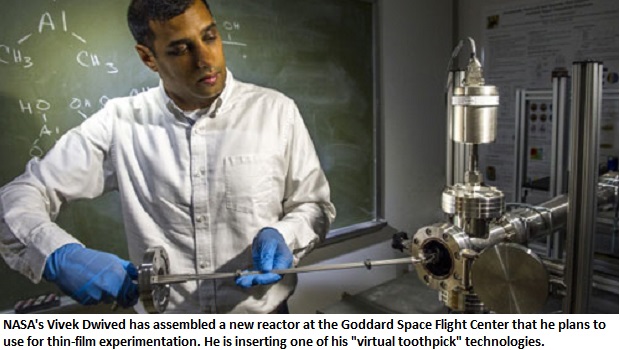 Atomic layer deposition is one of many techniques for applying thin films, which can improve computer memory, protect materials against corrosion, oxidation, and wear, and perform as batteries when deposited directly onto chips. (Learn More >>)
Ga Tech center advancing low cost electronics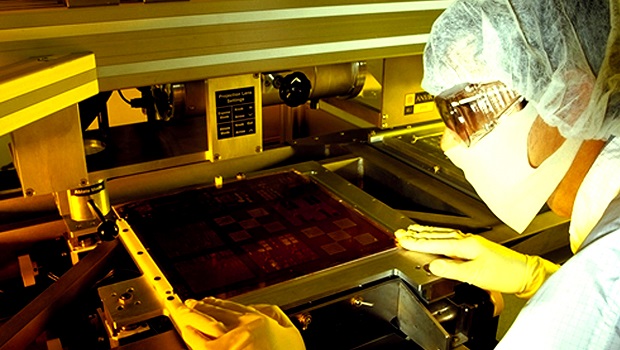 The NNI-funded Georgia Tech Center for Low Cost Electronics Packaging (PRC) is developing electronic systems that are expected to trend to mega-functional systems at lowest cost in smallest size. (Learn More >>)
Nanogrid, activated by sunlight, breaks down pollutants in water, leaving biodegradable compounds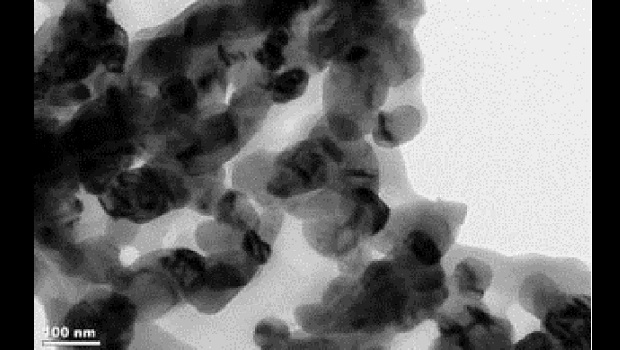 This NSF-funded project could help clean up oil spills. Research created a new catalyst that can break down hydrocarbons in water, and it does not contaminate the water. (Learn More >>)
Nano-cone textures generate extremely 'robust' water-repellent surfaces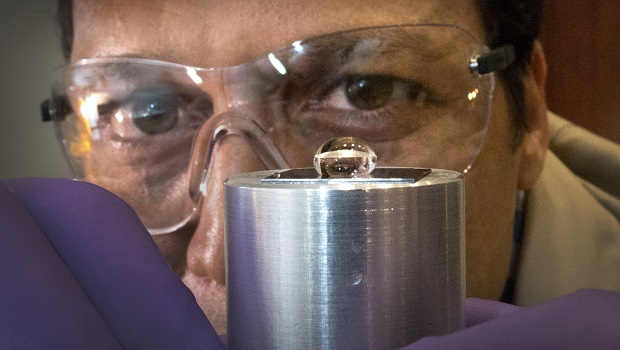 Scientists at DOE's Brookhaven Lab found that when it comes to designing extremely water-repellent surfaces, shape and size matter. (Learn More >>)
Berkeley Lab researchers create new material resembling molecular velcro for biosensing applications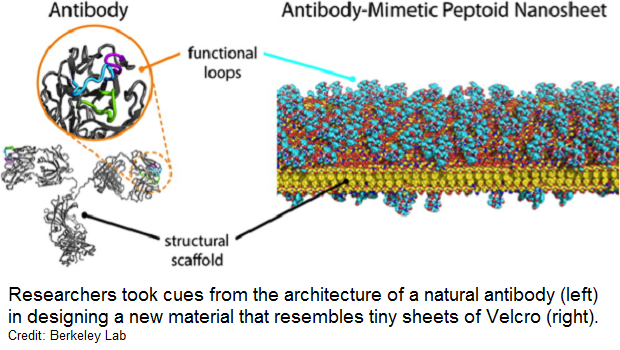 Taking inspiration from the human immune system, researchers at the U.S. Department of Energy's Berkeley Lab have created a new material that can be programmed to identify an endless variety of molecules. (Learn More >>)
NIST Center for Nanoscale Science and Technology launches updated NanoFab website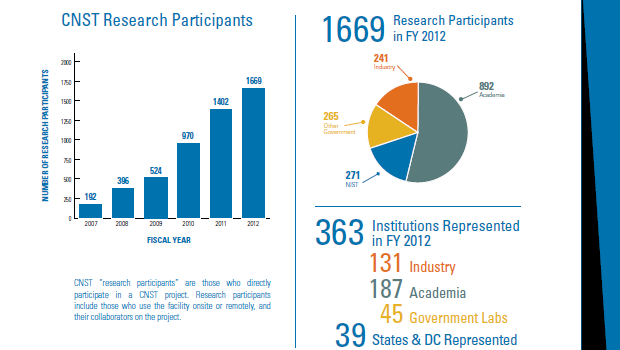 The CNST, NIST's nanotechnology user facility, launched a major update to the NanoFab website. The shared-use NanoFab gives researchers economical access to and training on a state-of-the-art tool set for cutting-edge nanotechnology development. (Learn More >>)
UPenn spin-off to develop roll to roll graphene production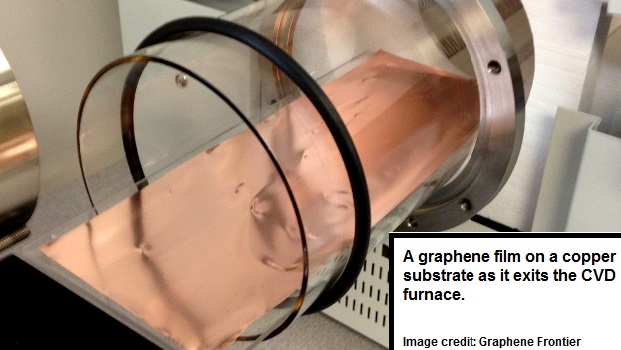 The NSF-supported spin-off will use technology that allows continous, roll-to-roll production of single-layer graphene at atmospheric pressure, which is much less expensive than conventional graphene production using high vacuum furnaces. (Learn More >>)
If you can't take the heat....try nano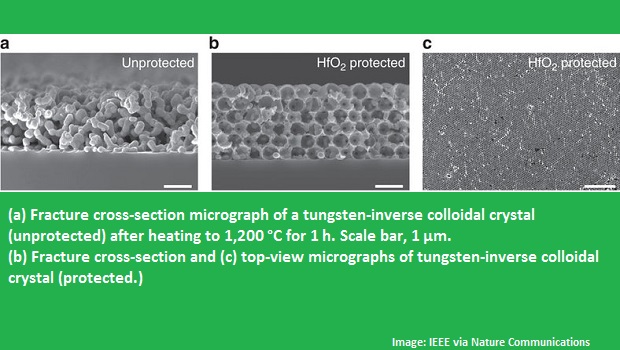 Nanoparticle-coated tungsten can withstand high temperature and potentially enable thermophotovoltaic (TPV) devices. TPVs convert both heat and light to power; this discovery could enable a more efficient alternative energy device. (Learn More >>)
Nano skin sensor tracks eyeball motion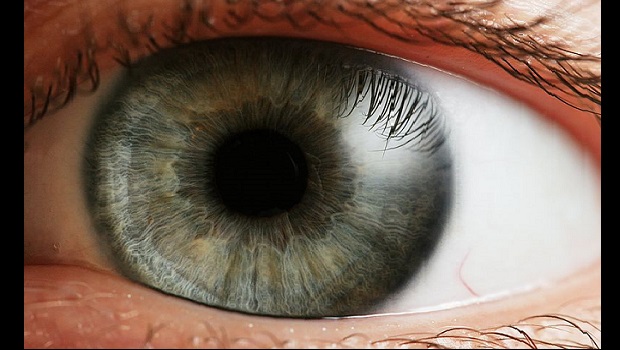 The super-flexible nanogenerator demonstrated its great potential to work as a sensor capable of detecting the eye ball movement when it was attached on the surface of the eyelid for monitoring sleep pattern, tiredness, and possible brain activity. (Learn More >>)
Wagon-wheel pasta shape for better LED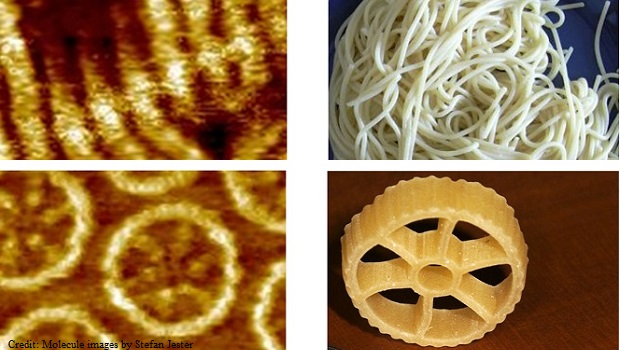 This study showed wagon-wheel molecules emit light randomly in all directions – a necessary feature for a more efficient OLED. Existing OLEDs now in some smart phones and TVs use spaghetti-shaped polymers that emit only polarized light. (Learn More >>)
Water glides freely across 'nanodrapes'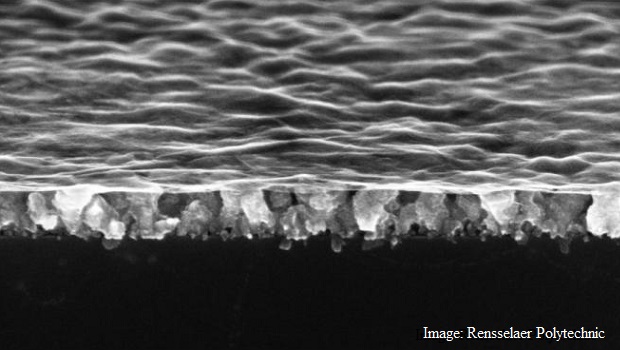 Researchers used graphene—the thinnest material on Earth—to waterproof materials with rough surfaces. The"nanodrapes" are less than a nanometer thick, chemically inert, and provide a layer of protection without changing the underlying material. (Learn More >>)
US-based scientists build the first carbon nanotube computer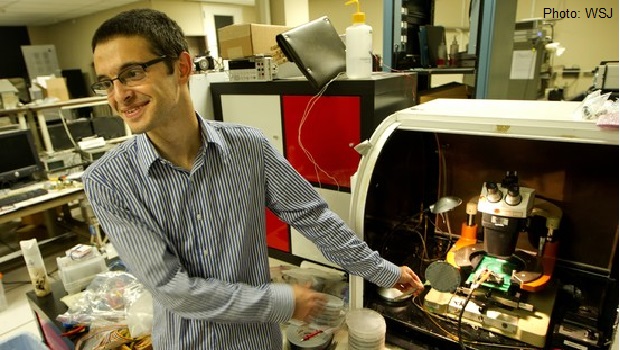 The invention shows that carbon fiber transistors can be assembled into a general purpose computer, which can run a basic operating system, perform calculations and switch between different processes running at the same time. (Learn More >>)
Shattering records: The world's thinnest glass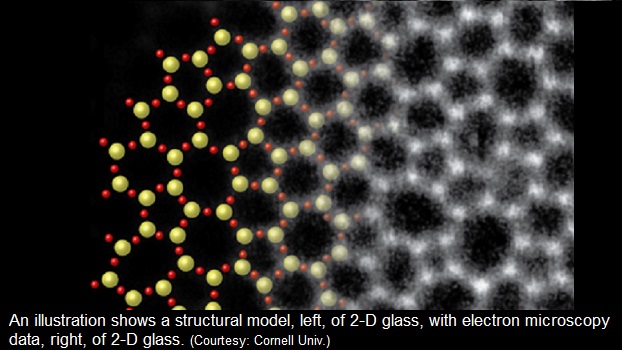 Just two atoms in thickness, making it literally two-dimensional, the glass was an accidental discovery that occurred when researchers were making graphene. (Learn More >>)
NNI R3 Workshop Webcast Archive Now Available for Viewing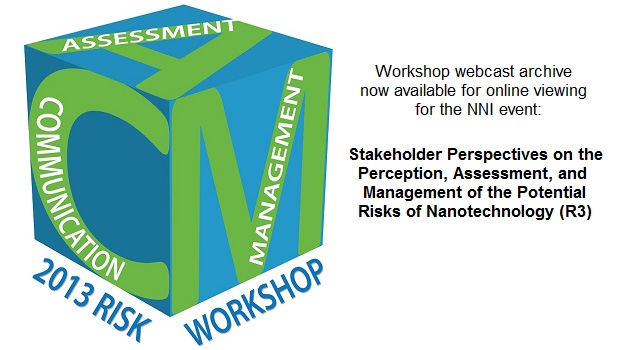 See the archived webcast from the R3 workshop, held in Washington, DC on Sept. 10-11, 2013. This public workshop highlighted practical tools that might be used by Federal and non-Federal decision makers in their consideration of potential risks. (Learn More >>)
A new super material is emerging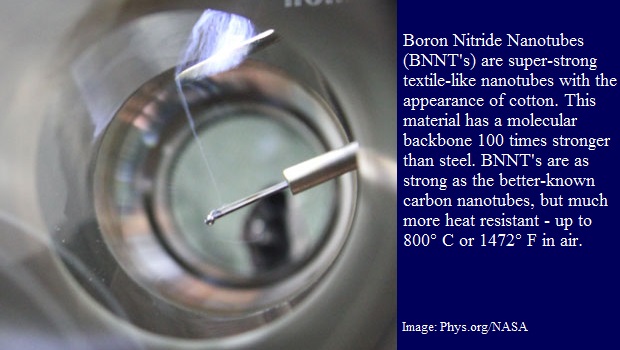 High-quality BNNT material has been notoriously difficult to make. Even a year ago, you could literally hold the world's supply of synthesized high-quality BNNT material in one hand at the NASA lab. (Learn More >>)
First million digits of pi engraved on sapphire crystal with gold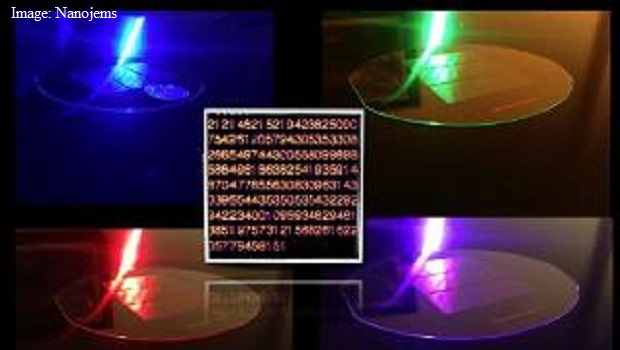 The engraving contains 200 times more digits than any other known engraving and is a landmark feat for the never-ending constant. The characters are so small that two digits can be etched on the end of a human hair. (Learn More >>)
Printed flexible CNTs for cheaper electronics, wall-sized displays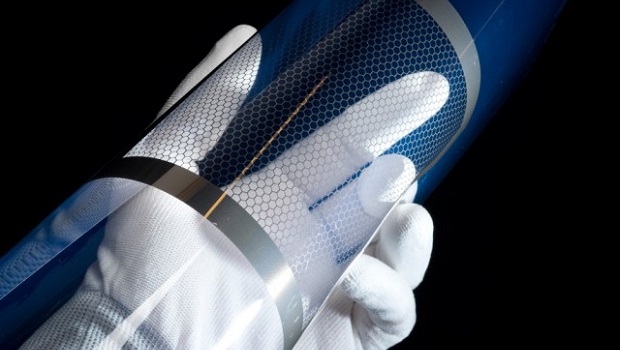 Researchers used a conventional, high-throughput printing process to create sheets of high-quality carbon nanotube transistors on flexible plastic (PET) sheets. These flexible sheets are made from the same kind plastic as the Coke bottle. (Learn More >>)
Nano-enabled smart windows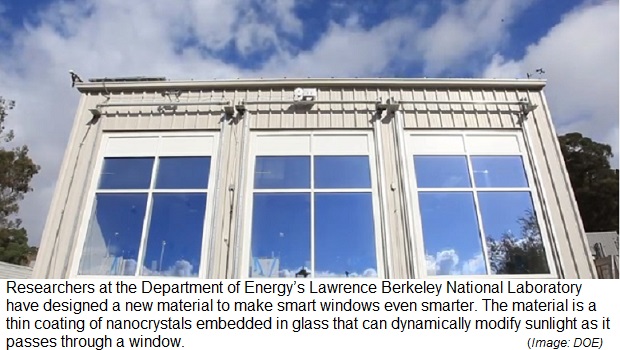 Unlike existing technologies, the coating provides selective control over visible light and heat-producing near-infrared (NIR) light, so windows can maximize energy savings and comfort in a wide range of climates. (Learn More >>)
"Mini Lisa," a nano-sized replica of the Mona Lisa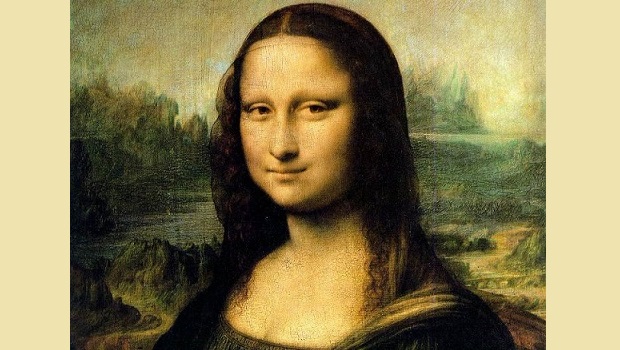 The world's most famous painting has now been created on the world's smallest canvas. Researchers at Georgia Tech "painted" the Mona Lisa on a substrate surface approximately 30 microns in width - or one-third the width of a human hair. (Learn More >>)
Nanoscale thermostat to measure and control temperature inside living cells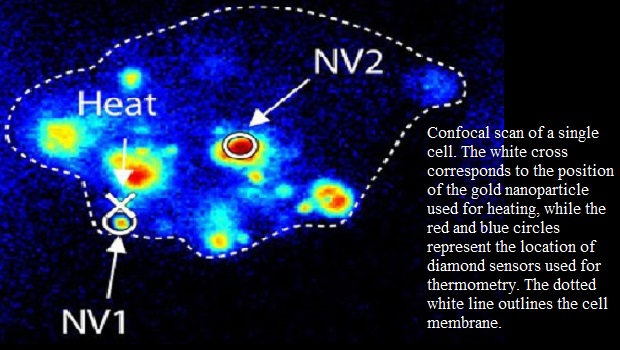 This DARPA-funded research could lead to better thermal management of electronics, monitoring the structural integrity of high-performance materials, cell-specific treatment of disease, and new tools for medical research. (Learn More >>)
Tattoo biosensor warns when athletes are about to 'hit the wall'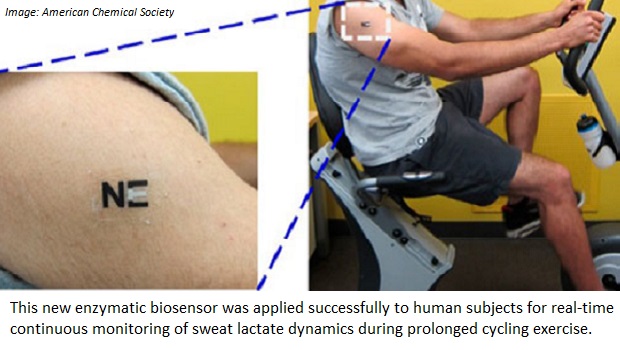 The sensor monitors lactate, a form of lactic acid released in sweat when the muscles need more energy than the body can supply from "aerobic" respiration. At a certain point, the lactate build up is too much and an athlete just cannot continue. (Learn More >>)
Researchers break record for thinnest light-absorber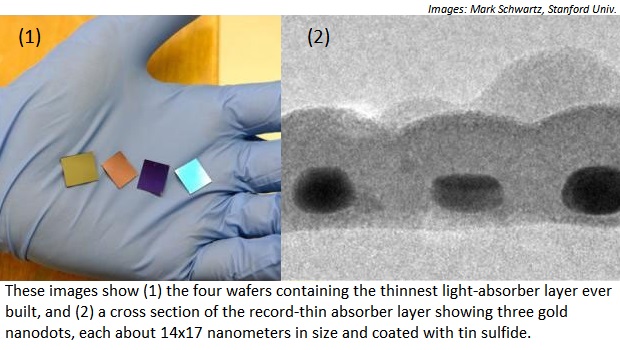 Stanford scientists have created the thinnest, most efficient absorber of visible light on record. The nanosize structure, thousands of times thinner than an ordinary sheet of paper, could lower the cost and improve the efficiency of solar cell. (Learn More >>)
Exposure to air transforms gold alloys into catalytic nanostructures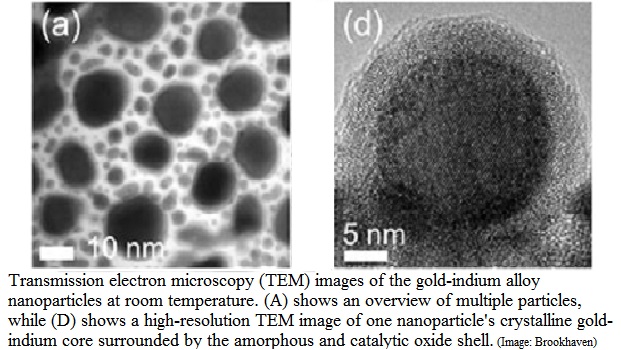 Brookhaven Lab scientists create novel core-shell gold-indium oxide nanoparticles through room-temperature oxidation. (Learn More >>)
Nanocubes Help Scientists Tell Left from Right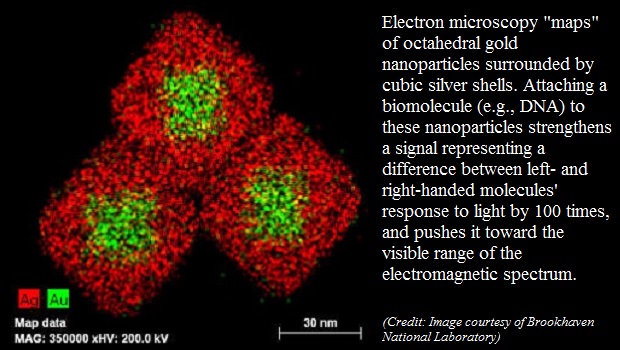 Scientists at DOE's Brookhaven National Laboratory and Ohio University used gold-and-silver cubic nanoparticles to amplify the difference in left- and right-handed molecules' response to a particular kind of light. (Learn More >>)
Light-carved 'nano-volcanoes' hold promise for drug delivery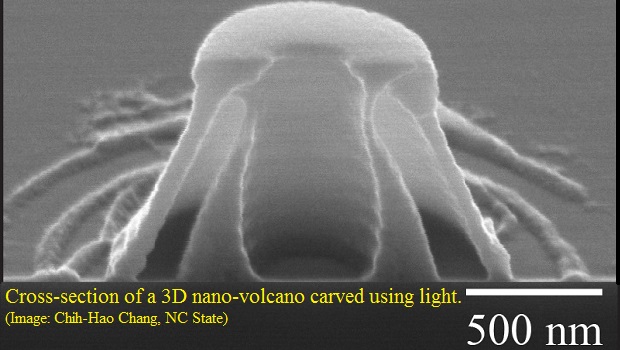 Researchers created nano-volcanoes by shining various colors of light through a nanoscale "crystal ball" made of a synthetic polymer. The nano-volcanoes can store precise amounts of other materials and hold promise for new drug-delivery technologies. (Learn More >>)
Nanosensor detects harmful airborne substances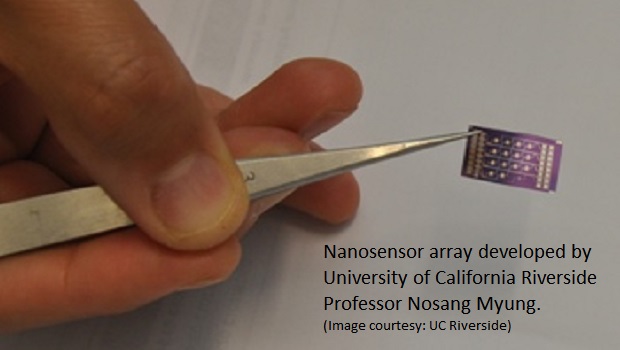 This "electronic nose" sensor is currently being commercialized and will be further refined to detect deadly pathogens including toxic pesticides in the global food supply chain. (Learn More >>)
Carbon nanotube catalyst could jumpstart e-cars, green energy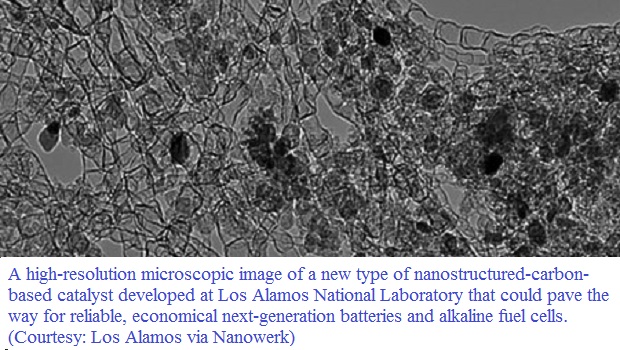 Los Alamos National Laboratory scientists have designed a new type of nanostructured-carbon-based catalyst that could enable the practical use of wind- and solar-powered electricity, as well as enhanced hybrid electric vehicles. (Learn More >>)
Gorgeous nanocrystal flowers sprout under electron microscope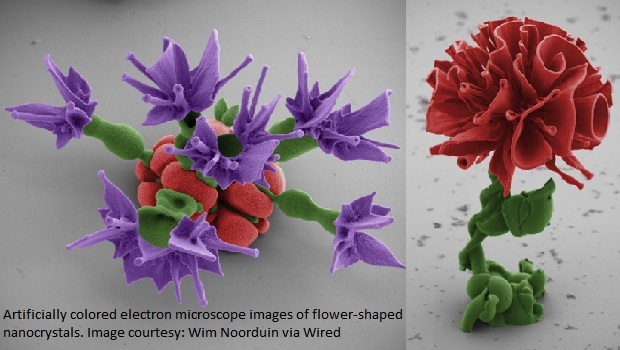 By making slight alterations in the acidity and concentration of chemicals, a Harvard researcher discovered how to control the growth of self-assembling crystals, resulting in stunning, flower-like structures. (Learn More >>)
Graphene study confirms 40-year-old physics prediction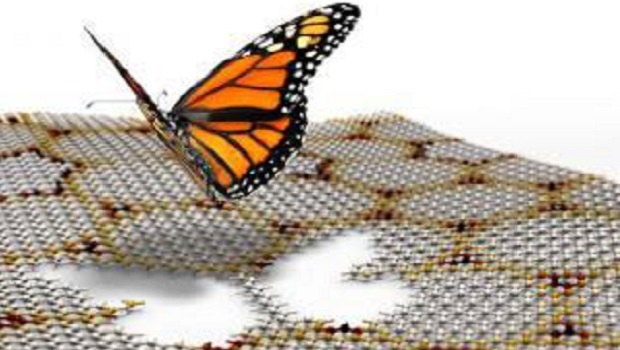 Researchers from the U.S. and Japan have observed a rare quantum effect that produces a repeating butterfly-shaped energy spectrum, confirming the longstanding prediction of this quantum fractal energy structure called Hofstadter's butterfly. (Learn More >>)
Injectable nanoparticles may simplify treatment for Type 1 Diabetes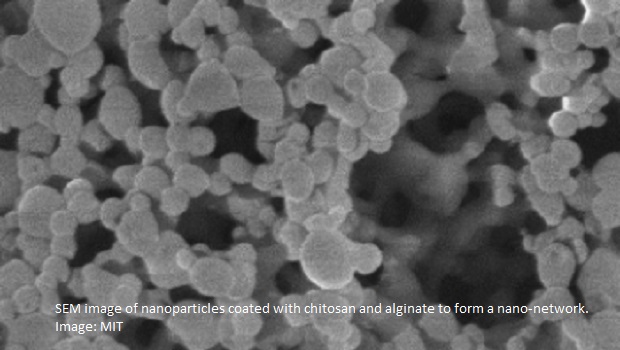 Injectable nanoparticles developed at MIT may someday eliminate the need for patients with Type 1 diabetes to constantly monitor their blood-sugar levels and inject themselves with insulin. (Learn More >>)
NNI Supplement to the President's 2014 Budget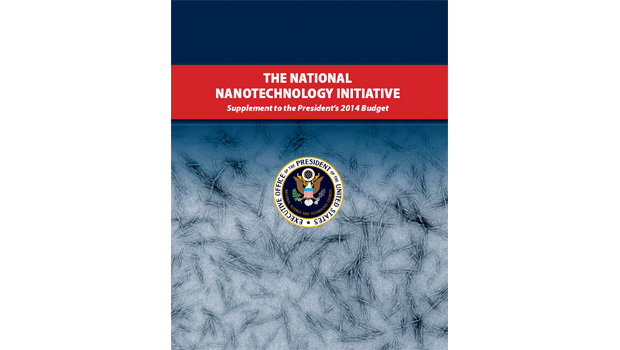 This document gives a description of the activities underway in 2012 and 2013 and planned for 2014 by the Federal Government agencies participating in the National Nanotechnology Initiative (NNI). (Learn More >>)
Can Solar Energy Get Bigger by Thinking Small?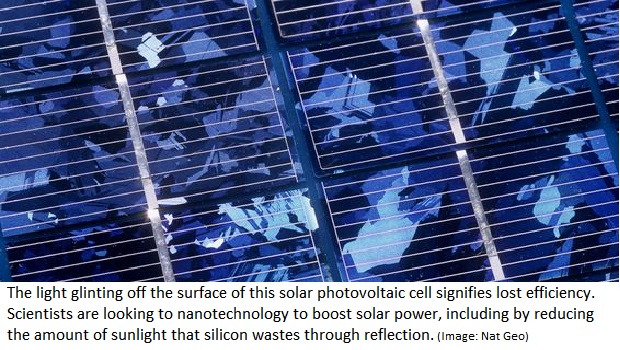 National Geographic looks into advances in solar energy and examines the various ways in which nanotechnology could provide a gigantic boost in solar energy efficiency and affordability. (Learn More >>)
Nanotube-infused silicone liquid crystal stiffens with repeated compression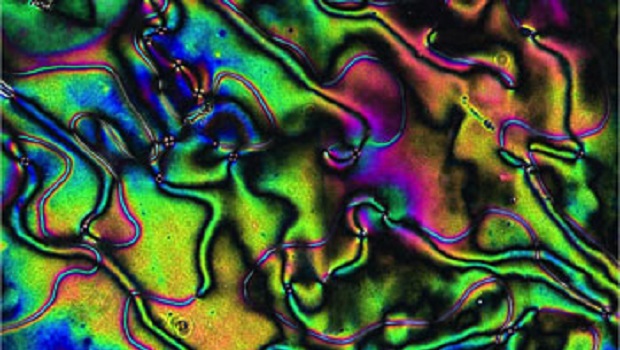 Squeeze a piece of silicone and it quickly returns to its original shape. But scientists at Rice University have discovered that the liquid crystal phase of silicone becomes 90% stiffer when silicone is gently and repeatedly compressed. (Learn More >>)
Supertough & Strong Nanofibers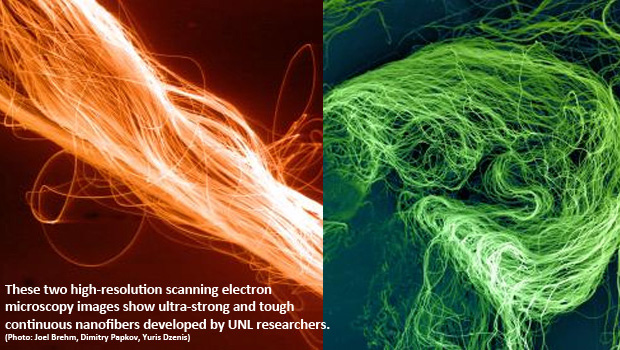 UNL materials engineers have developed a structural nanofiber that is both strong and tough, two traits that are usually mutually exclusive. This discovery could transform everything from airplanes and bridges to body armor and bicycles. (Learn More >>)
Nanosponges To Absorb Toxins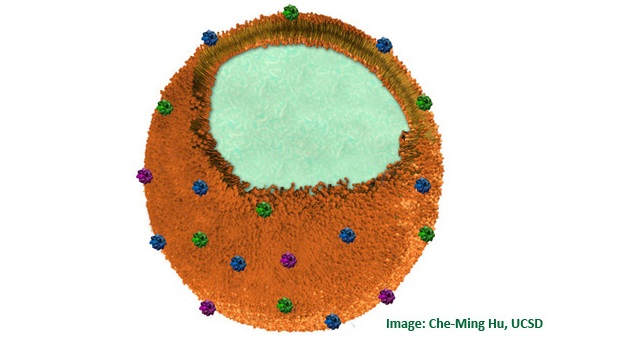 UCSD researchers invented a "nanosponge" capable of safely removing a broad class of dangerous toxins from the bloodstream, including toxins produced by MRSA, E. Coli, poisonous snakes, and bees. (Learn More >>)
Not slippery when wet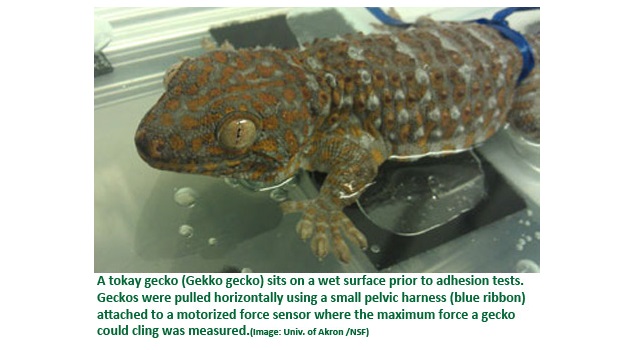 Geckos adhere to surfaces submerged underwater and scientists are now studying this phenomenon to inform future high tech adhesives. (Learn More >>)
Record-breaking resolution at the nanoscale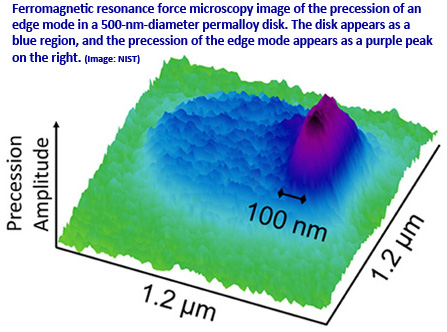 NIST researchers are part of an international team that made this significant advancement possible. (Learn More >>)
Nanofoams for better body armor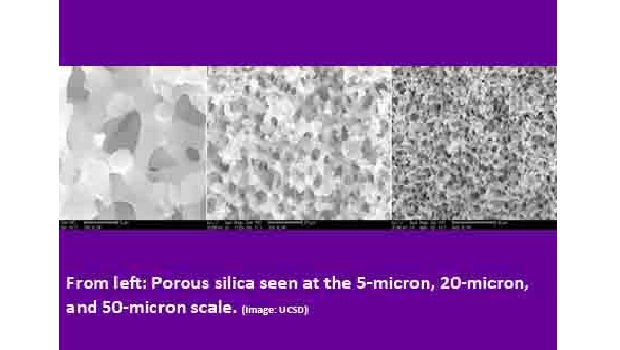 UCSD engineers are developing nanofoams that could prevent traumatic brain injury and blast-related lung injuries, and protect buildings from impacts and blasts. (Learn More >>)
Creating indestructible self-healing circuits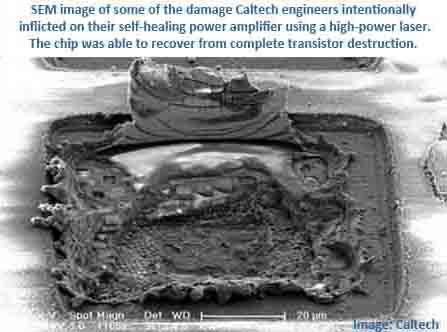 Imagine if your smart phone could repair itself, recovering in microseconds from less-than-ideal battery power or even total transistor failure. (Learn More >>)
Practicing medicine at the nanoscale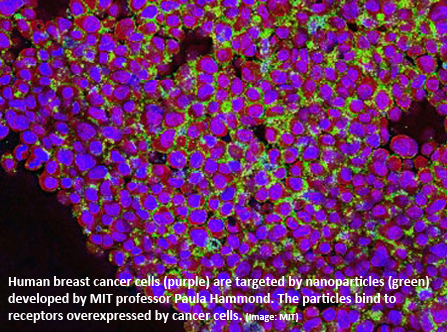 MIT's new Institute for Medical Engineering and Science aims to reshape medicine through new scientific knowledge, novel treatments and products, better management of medical data, and improvements in health-care delivery. (Learn More >>)
Nano beads on a string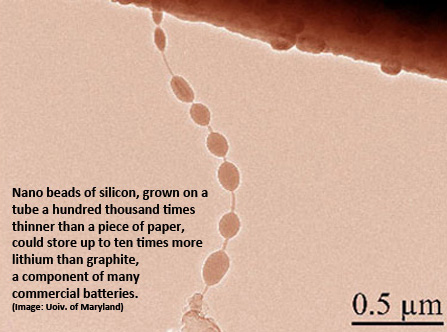 Researchers believe this structure is more resilient than flat silicon coatings because the beads grow like flexible balloons (Learn More >>)
Engineers Week 2013: Family Day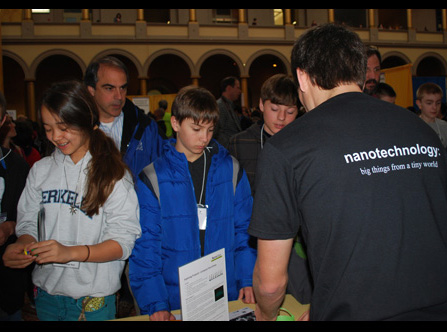 The NNI sponsored an educational, nanotechnology-focused booth at Family Day, an annual Engineers Week event held at the National Building Museum in DC. The booth featured hands-on demonstrations by UVa volunteers. (Learn More >>)
A Nanoscale Look at Picasso
Researchers at Argonne National Lab used a hard x-ray nanoprobe to examine Pablo Picasso paintings, revealing that the famous artist used common house paint for his work! (Learn More >>)
Magnetic nanoparticles may explain why artificial joints fail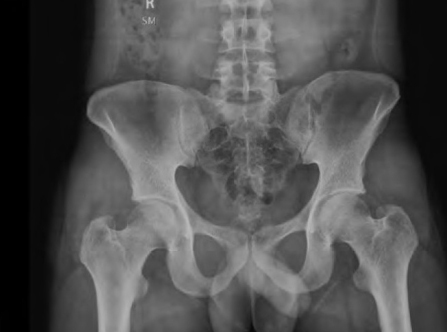 An NSF-funded study embeds nanoparticles into artificial joints to study degradation and wear and potentially curb the need for replacement surgeries. (Learn More >>)
Circuits on Cellulose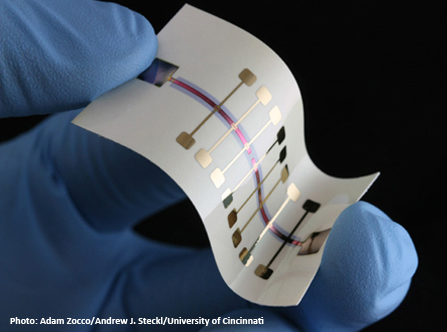 Paper electronics could pave the way to a new generation of cheap, flexible gadgets (Learn More >>)
Nanoparticles digging the world's smallest tunnels
Researchers dug tiny tunnels into graphite samples and created nanoporous graphite for potential use in medical applications and battery technology. (Learn More >>)
A new level of control over liquid crystals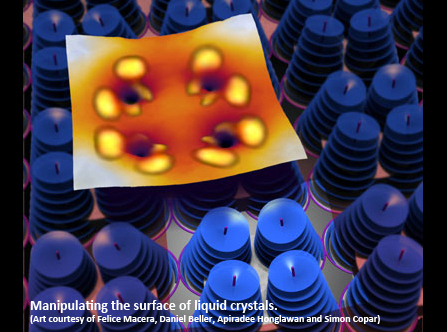 Directed assembly is where scientists aim to manufacture nanostructures without individually manipulating each component. Instead, they set out precisely defined starting conditions and let the physics and chemistry do the rest. (Learn More >>)
World's smallest magnet made of only five iron atoms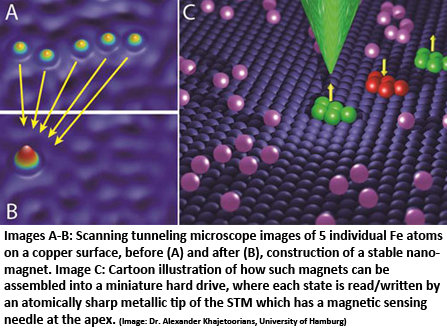 The peculiar properties of magnets have found their way into a vast number of technologies ranging from information technology to medical imaging. (Learn More >>)
Slice, stack, roll: A nanofiber method for collagen scaffolds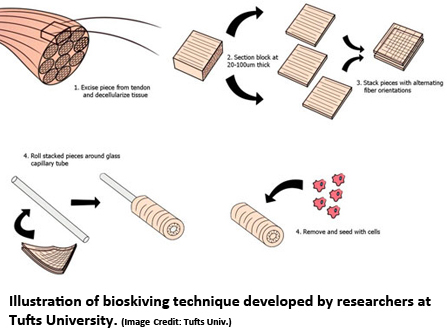 This new technique leverages the natural properties of collagen, opening the door to biomedical applications including tissue engineering. (Learn More >>)
Nanotube lens serves as invisible sonic scalpel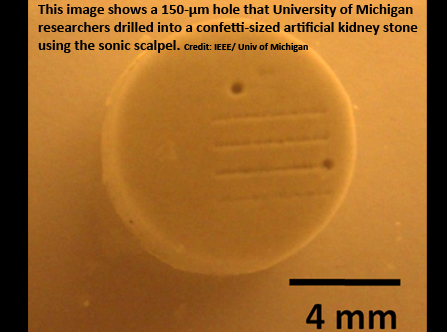 By converting light into tiny, targeted soundwaves, this carbon nanotube lens could usher in a new era of ultra-precise, non-invasive surgery. (Learn More >>)
Nanofibers clean sulfur from fuel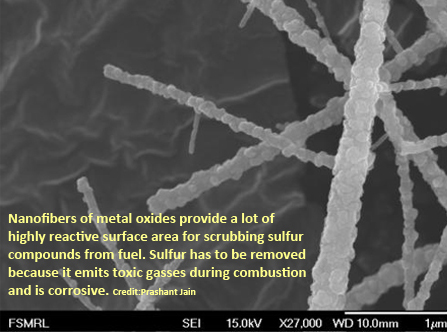 Researchers found that metal oxide nanofibers are much more efficient at removing sulfur than traditional materials. These nanofibers could lead to better, lower cost catalysts, or be used in advanced energy applications and toxic gas removal. (Learn More >>)
Seeing in color at the nanoscale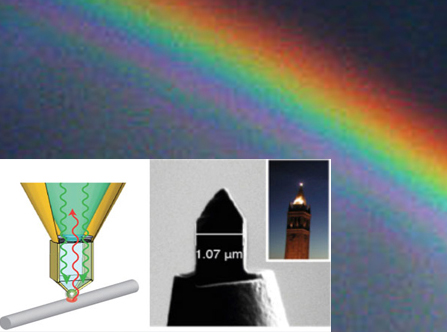 Researchers at DOE's Berkeley Lab have a new microscopy tool called the "campanile" tip that delivers exquisite chemical details and information on interactions with light--the atomic microscopy equivalent to color. (Learn More >>)
Drag-and-Drop Drug Development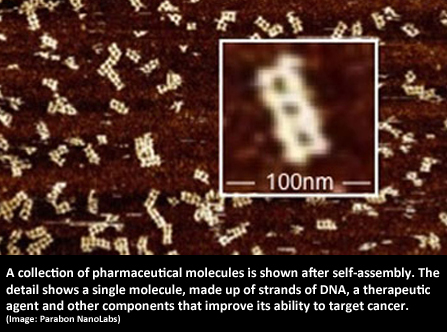 Using a simple "drag-and-drop" computer interface and DNA self-assembly techniques, researchers have developed a new approach for drug development that could drastically reduce the time required to create and test medications. (Learn More >>)
Nanosensor mimics dog's nose to detect explosives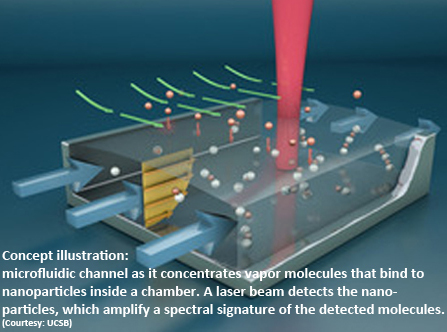 This device is reportedly capable of real-time detection and identification of certain types of molecules at concentrations of one part per billion or below. (Learn More >>)
Nanotextured butterfly wings inspire self-cleaning surfaces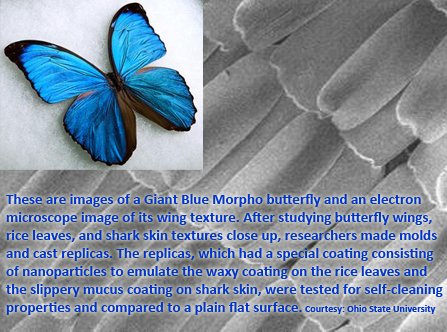 These nanotextured surfaces prevent dirt build up and reduce drag, and could enable applications ranging from more efficient airplanes to self-cleaning medical equipment. (Learn More >>)
Airless bike tires use carbon nanotubes to keep their shape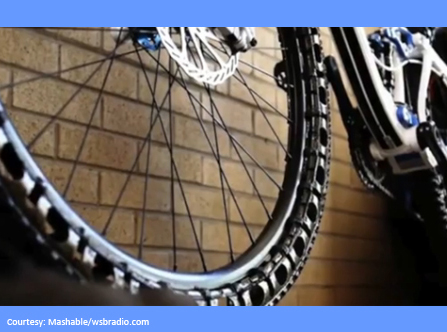 A U.S. designer has built a prototype of bike tires that use adjustable carbon nanotube composites, rather than air-filled innertubes. (Learn More >>)
One step closer to a roll-up e-tablet, smartphone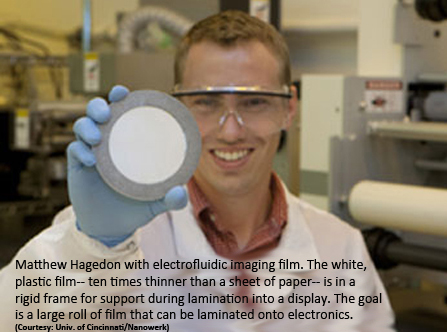 The "E-sheet" will be ultra-thin and virtually indestructible; it would be as rollable as a rubber mat and able to withstand rolling or folding 10's of thousands of times. (Learn More >>)
Manufacturing complex 3D metallic structures at nanoscale made possible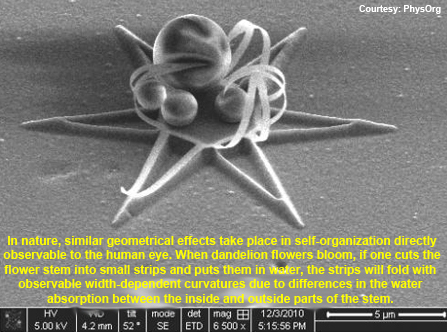 Scientists made the discovery while studying the irregular folding of metallic thin films. (Learn More >>)
Nanotechnology Solar Cell Achieves 18.2% Efficiency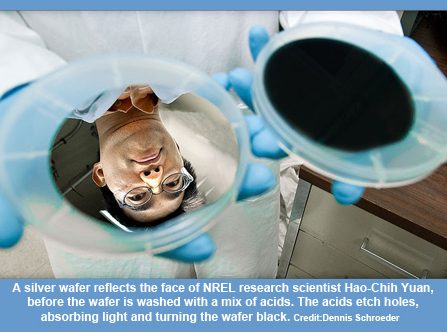 NREL researchers made 'black silicon'-- nano-islands of silver on a silicon wafer with billions of holes-- that reduces light reflection allowing for greater energy capture. (Learn More >>)
CNT Sensors can be Drawn with Mechanical Pencils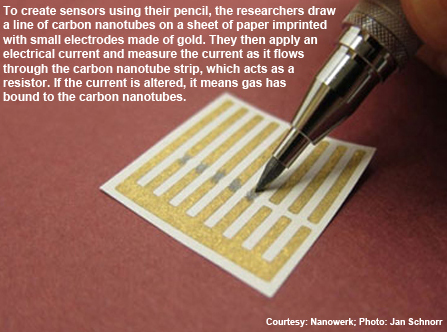 MIT chemists designed a type of pencil lead made of a compressed powder of CNTs, which can be used like a normal pencil to draw sensors onto paper. (Learn More >>)
NIST Physicist David Wineland Wins 2012 Nobel Prize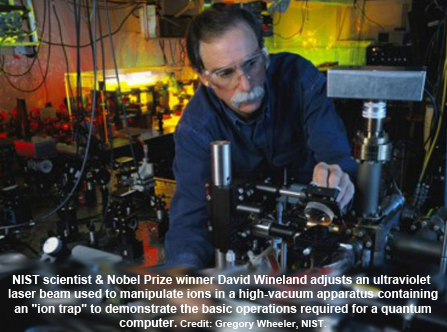 An American scientist discovered a way to manage, measure and control fragile quantum states. Wineland shares the prize with France's Serge Haroche. (Learn More >>)
Join the US Pavilion at nano tech 2013 in Tokyo!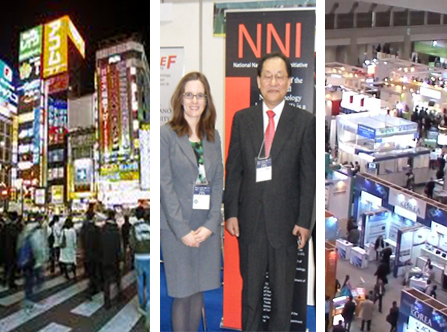 Japan's annual "nano tech" is the world's largest nanotechnology exhibition, hosting more than 50,000 attendees last year. (Learn More >>)
Graphene Films Could Protect Metals in Harsh Environments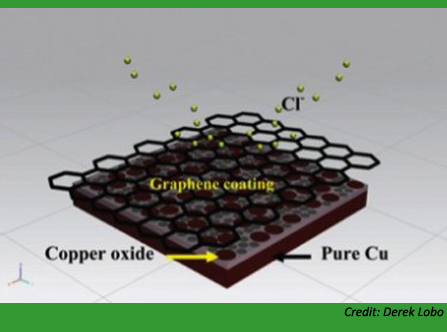 The thin coating is invisible to the human eye and has been shown to make copper nearly 100 times more corrosion resistant. (Learn More >>)
IEEE Nano Calls for 2013 Award Nominations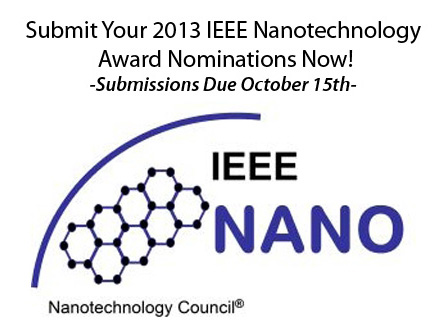 This year's categories are the Pioneer Award in Nanotechnology; the Early Career Award; and the Distinguished Service Award. (Learn More >>)
Cleaning up oil spills with magnets and nanotechnology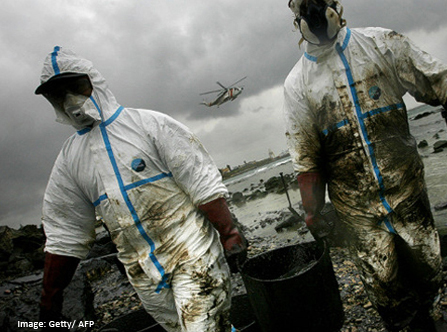 MIT researchers say that when mixed with water-repellent nanoparticles that contain iron, the oil can be magnetically separated from the water. (Learn More >>)
Wood-based Nanomaterial May Be as Strong as Bulletproof Vest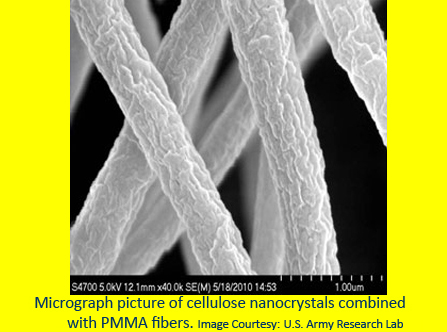 At it's new pilot plant in Wisconsin, the U.S. Forest Service has created a nanocrystalline cellulose fiber that is super strong, light weight, and renewable. (Learn More >>)
Now Accepting Questions for NNI Webinar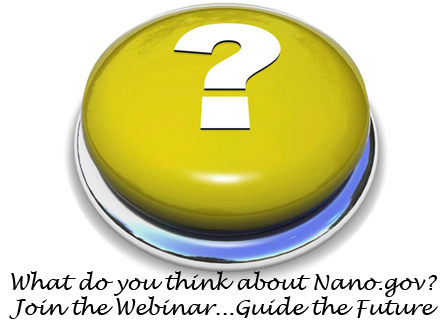 Tweet or email your suggestions and comments for improving Nano.gov! Questions will be answered and submission read live online today, Sept. 20 at 12:15pm. (Learn More >>)
NNI Center to Develop Self-Powered Health-Monitoring Sensors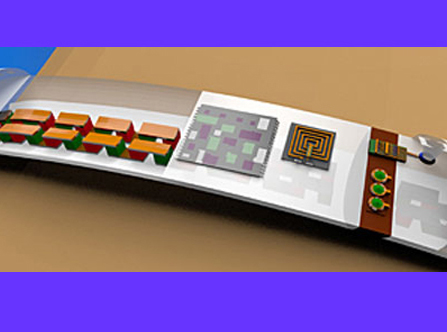 Depending on the biological system being monitored, sensors could be worn as a patch on the chest, on the wrist like a watch, or even as a cap that fits over a tooth. (Learn More >>)
'Nanoresonators' might improve cell phone performance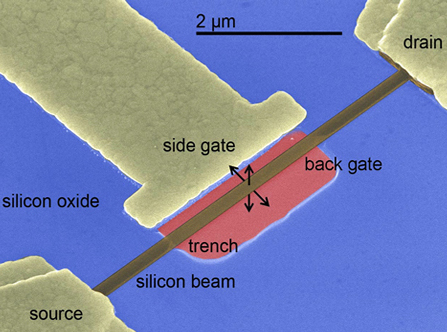 Researchers have learned how to mass produce tiny mechanical devices that could help cell phone users avoid the nuisance of dropped calls and slow downloads. (Learn More >>)
Nanoparticles reboot blood flow in brain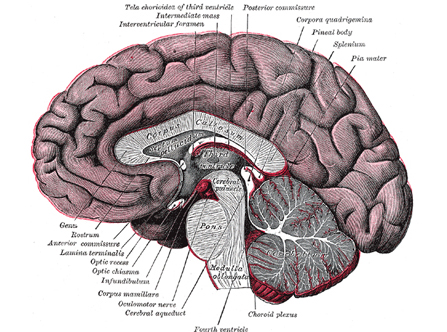 In a traumatic brain injury, cells release an overwhelming number of toxic free radicals, which affect blood flow. Researchers found that a combination nanoparticle quickly restores normal blood flow to the brain, preventing additional damage. (Learn More >>)
Researchers Build Circuit on Novel 2-Dimensional Material
The one-molecule-thick material is made of molybdenum disulfide and has a natural bandgap, which does not exist in graphene. (Learn More >>)
DNA Encoding Breaks Data Density Record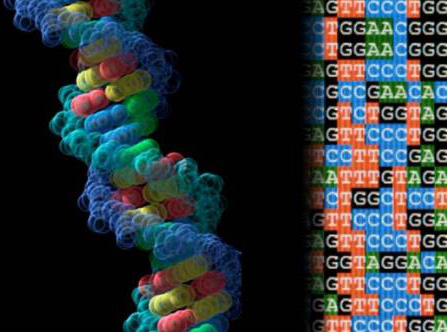 Researchers have used DNA to encode a genetics textbook with over 50,000 words and 11 images. Theoretically, this high-density storage medium could enable scientists to store the entire Library of Congress in the volume of a sugar cube. (Learn More >>)
What is it?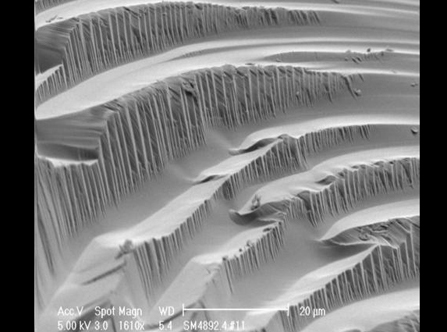 The cliffs of Dover? The caldera of Santorini? A terraced mountainside in Central Asia? Actually, it's the chipping at the edge of a silicon wafer when seen through a scanning electron microcope! (Learn More >>)
Zoom into Nano in Your State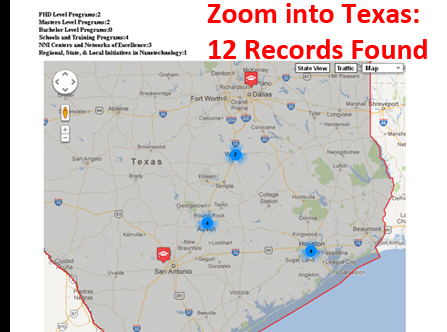 The NNI Interactive Web Map allows you to zoom into the regional, state, and even city levels to see the facilities and programs in you area. Zoom into your neighborhood today! (Learn More >>)
NNI Launches Interactive Web Map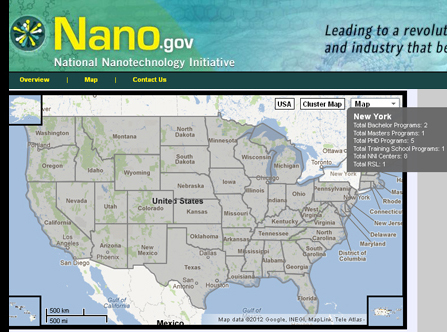 This map features all the facilities in the U.S., including higher education programs, NNI centers and user facilities (labs), and regional, state, & local initiatives. Find out what's in you area! (Learn More >>)
Through the Looking Glass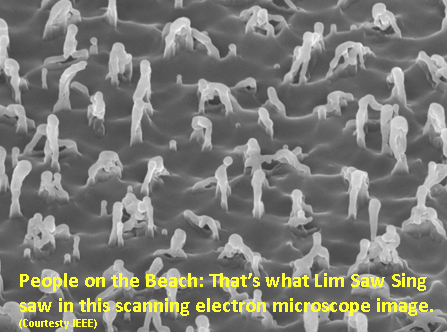 Failure analysts show off the strange images they see in their microscopes. This image won the top prize in this year's IEEE competition. (Learn More >>)
Scientists solve 25 year old question: "How do buckyballs form?"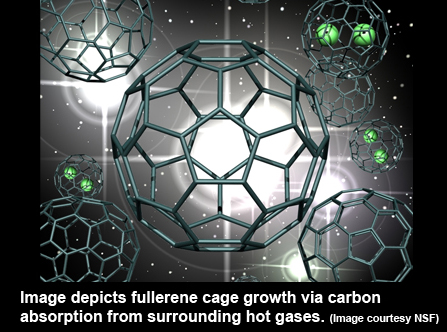 Experiments at the National Science Foundation-funded "MagLab" shed light on the self-assembly of these carbon networks. (Learn More >>)
First manned nanocomposite boat launched
Designed with carbon fiber composite for fuel efficiency and rough sea stabilization, this boat can travel up to 40 knots and more than 1500 nautical miles-- three times the range of a similar sized boat. (Learn More >>)
Nanogels transport two-pronged attack on cancer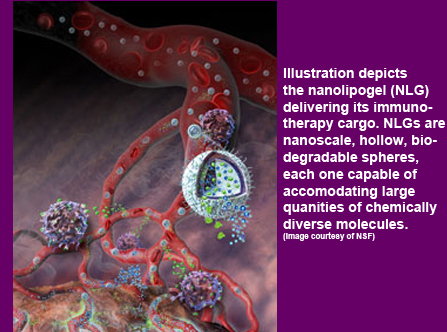 Yale researchers develop a drug delivery system that carries dual-acting medicines in one package. (Learn More >>)
Nano-enabled Stretchable Electronics?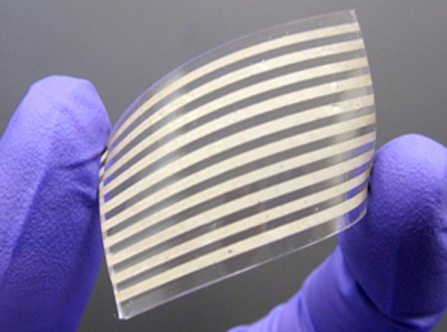 NC State researchers developed highly conductive and elastic conductor from silver nanowires that may open the door to electronics that bend and stretch. (Learn More >>)
NNI Launches Nanotechnology Signature Initiative on Nanosensors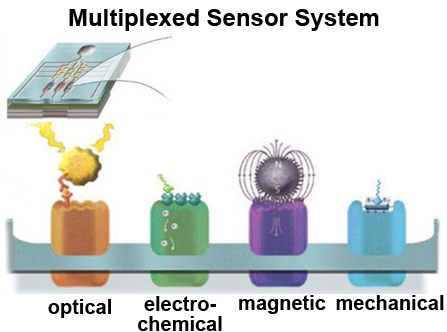 This NSI will open the door to the development of inexpensive, portable devices that can rapidly detect, identify, and quantify biological and chemical substances. (Learn More >>)
Nanoparticles Cleanup Water A Billion Times Faster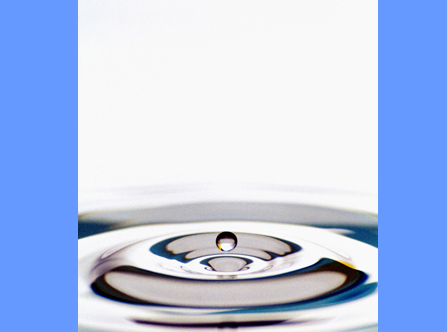 Scientists found that palladium-gold nanoparticles are a billion times faster than the conventionally used iron at destroying TCE--a carcinogen found in the groundwater at more than half of all U.S. Superfund sites. (Learn More >>)
Nano-Infused Paint Can Detect Strain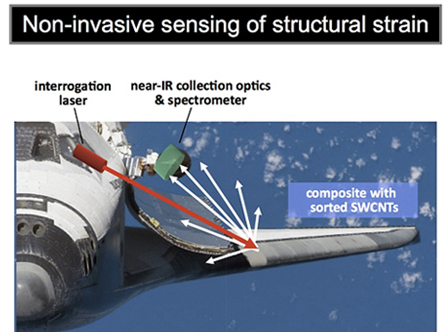 A new kind of paint made with carbon nanotubes can detect strain and deformations in building, bridges, and airplanes. (Learn More >>)
Nanotech Method for Capturing Firefly Light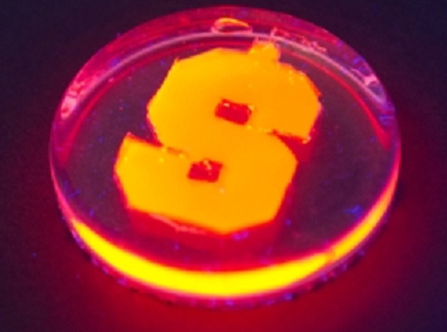 Researchers use nanotechnology to harness bioluminescence, offering potential for ultra-high efficiency conversion of chemical energy to light. (Learn More >>)
Nanotech Goes Big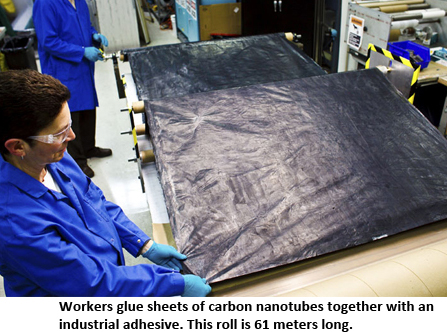 Large sheets made from carbon nanotubes could lead to lighter aircraft and more ­resilient space probes. (Learn More >>)
Unzipped CNTs could energize fuel cells
Stanford scientists developed a technique that could make carbon nanotubes (CNTs) a cost-effective alternative to platinum-- an expensive metal currently used in fuel cells. (Learn More >>)
Exploring Rational Design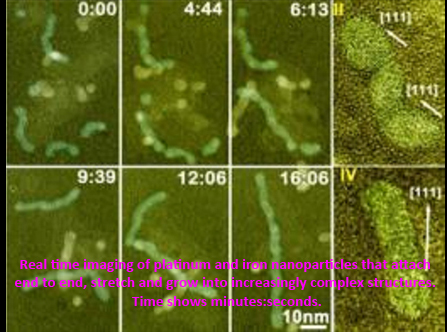 This Berkeley Lab experiment may prove a contentious theory of nanocrystalline growth and self-assembly, paving the way to the energy devices of the future. (Learn More >>)
NNI Announces New Nanotechnology Signature Initiative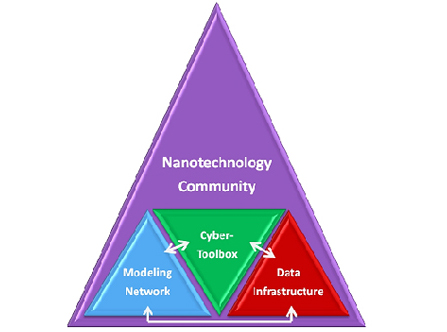 The member agencies of the NNI and OSTP have unveiled plans for the "Nanotechnology Knowledge Infrastructure." (Learn More >>)
New 3-D Nanostructures Assemble with Remarkable Precision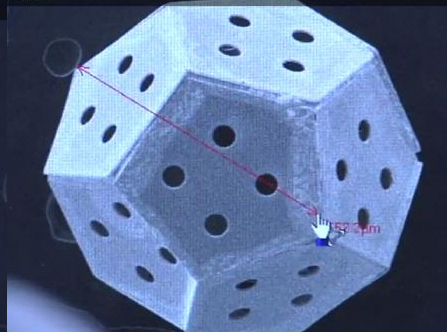 A team of scientists and mathematicians are developing self-assembling, three-dimensional nanostructures that can be used for targeted drug delivery. (Learn More >>)
MIT Develops Revolutionary Glare-Free Glass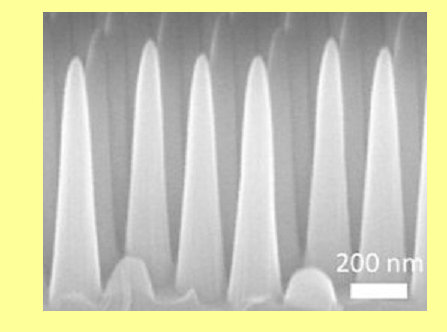 The nanotextured surface of this 'multifunctional glass' is also anti-fog and self-cleaning. (Learn More >>)
Quantum computer built inside a diamond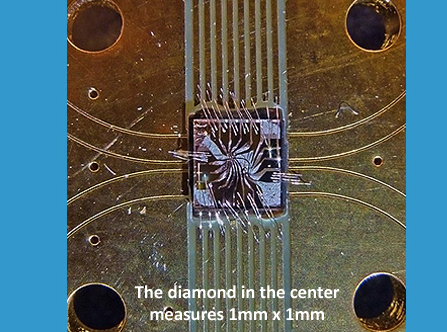 Built by a team at the Univ. of Southern California, this demonstration is particularly promising because it can be easily scaled up in size. (Learn More >>)
Nano 3D printing hits the fast track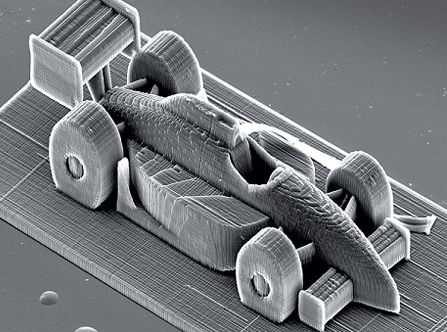 Using femtosecond pulses from an 800-nm laser, researchers created this 285 micron racecar in just 4 minutes. (Learn More >>)
Hybrid nanoparticles could reduce greenhouse gases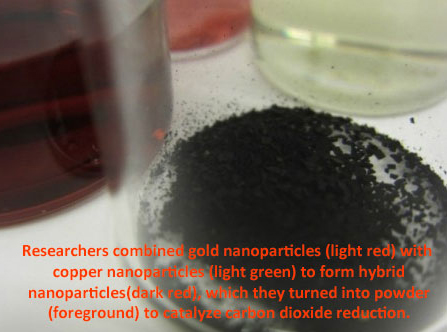 MIT scientists combined gold and copper nanoparticles, creating a stable metal that can convert CO2 using very little electricity. (Learn More >>)
NNCO Welcomes New Director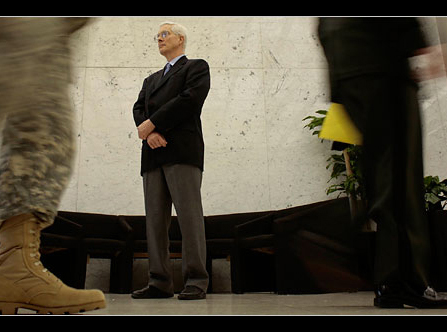 Dr. Robert Pohanka joins NNCO after serving as Director of the DoD's Defense Venture Catalyst Initiative (DeVenCI), where he led and directed the strategy for finding private sector technologies and bringing them to the marketplace. (Learn More >>)
Russian Scientists Visit NNCO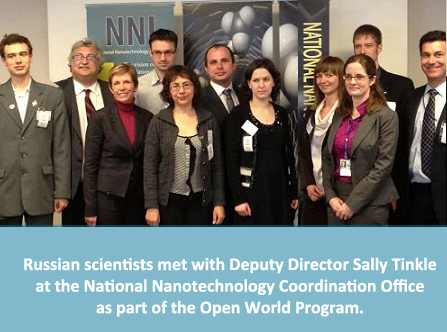 The visit was co-sponsored by the Open World Leadership Center (an independent agency in the U.S. legislative branch) and the State Department under a program to foster relationships between U.S. and Russian leaders in various fields. (Learn More >>)
NanoDays Festival Underway Across the Country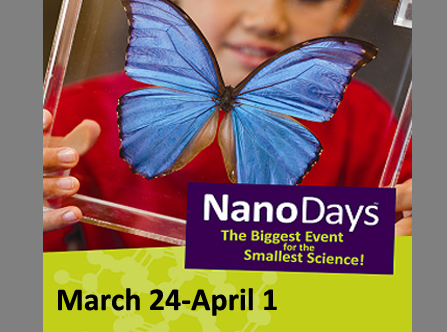 NanoDays-- a festival of educational programs about nanoscale science and engineering-- will take place at more than 200 locations nationwide. Find an event near you! (Learn More >>)
NNI Participates in Nano Tech 2012 in Japan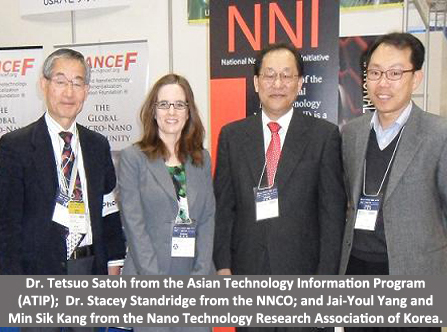 With 510 companies from 23 countries, this event is the largest annual nanotechnology conference in Asia. (Learn More >>)
RSL 2012: Limited Space Left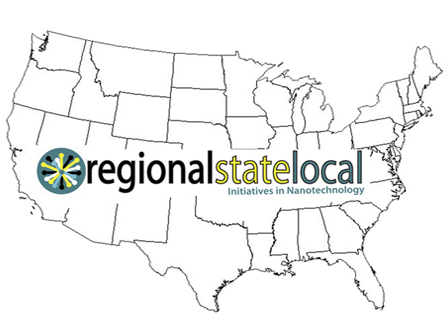 The NNI Regional, State, and Local Initiatives in Nanotechnology 2012 Workshop (RSL 2012) will be held in Portland, OR on May 1-2, 2012. Register now-- space is still available to present a poster. (Learn More >>)
DoD and NIH research collaboration leads to early cancer detection startup company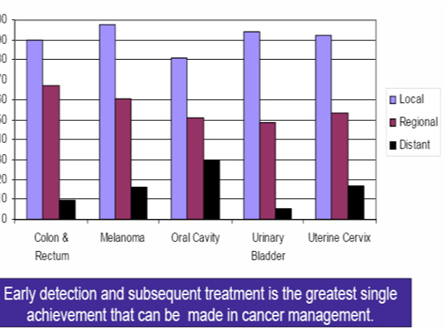 Highly sensitive biosensors detect cancer using a silicon nano-membrane. (Learn More >>)
Nano-Fabric Uses Body Heat to Create Electricity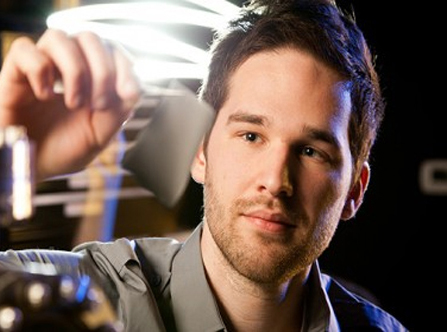 This thermoelectric fabric made of carbon nanotubes in plastic-- called "Power Felt"-- can convert body heat into electricity. Someday you might charge a cell phone just by sitting on it! (Learn More >>)
Kenmore Middle School Wins Nanotechnology Award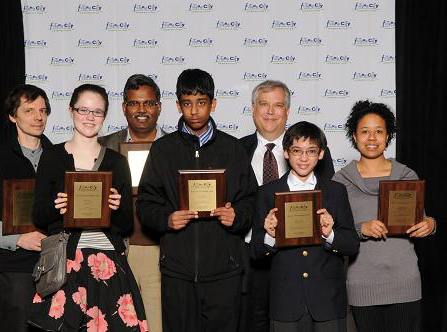 Arlington's Kenmore Middle School took home the prize for the NNI-sponsored award for the best use of nanotechnology in the 2012 Future City National Finals. (Learn More >>)
UVa NExT club teams up with NNI for Engineers Week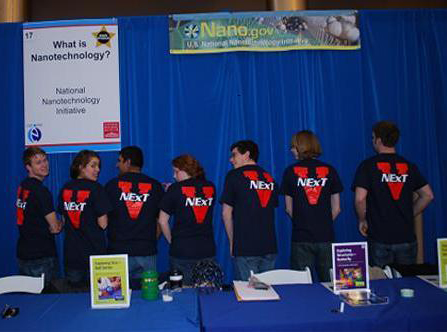 Students from University of Virginia's Nano and Emerging Technologies Club (NExT) assisted the NNI nanotechnology demonstrations at Family Day at the National Building Museum. (Learn More >>)
NNI Hosts a Nanotechnology Booth at Engineers Week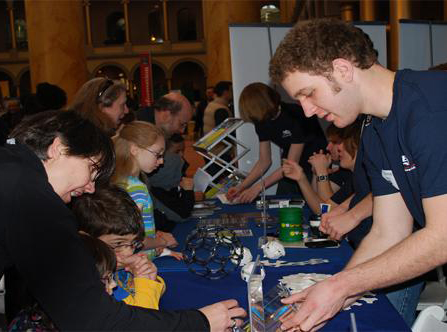 An NNI volunteer from demonstrates nanoscale structure by shining a light through a butterfly's wing. (Learn More >>)
Discover Engineering Family Day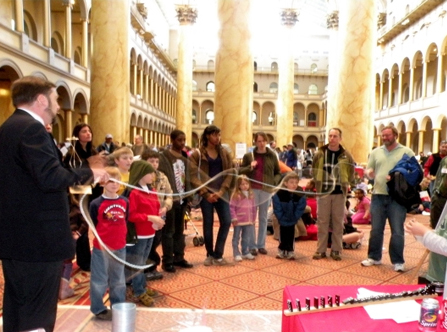 The NNI is sponsoring a nanotechnology booth at Family Day at the National Building Museum in Washington, DC on Feb. 18, 2012, part of Engineers' Week. (Learn More >>)
Nanoshell 'Whispering Galleries' Improve Solar Films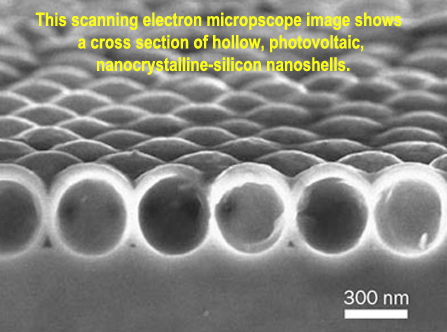 These thin hollow spheres trap light, which improves efficiency and paves the way for much cheaper solar panels. (Learn More >>)
Carbon Nanotube 'Forest' Hides 3D Object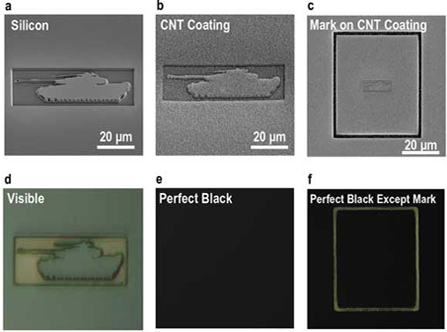 By absorbing light instead of scattering it, the CNT coating shown here is able to hide a 3D structure and may be able to cloak an object against a black background. (Learn More >>)
9nm Carbon Nanotube Switch Outdoes Silicon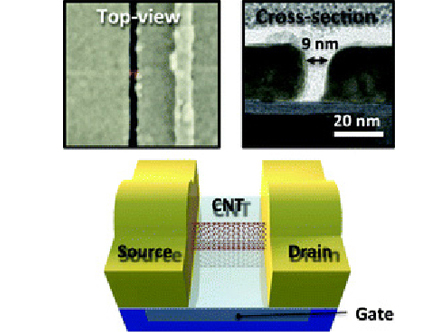 By creating the smallest CNT ever, IBM made a CNT transistor that's smaller than physically possible for silicon, while using less energy and carrying 4 times the current of its silicon counterpart. (Learn More >>)
Metrics Workshop Slides and Videos Now Online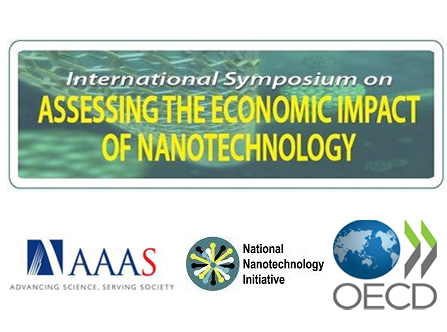 See video of the plenary talks and all of the presentation slides from the hugely successful NNI & OECD joint workshop, Assessing the Economic Impact of Nanotechnology. (Learn More >>)
World's Smallest 3D World Map
Consisting of 500,000 pixels-- each pixel measuring only 20 nanometers²-- IBM scientists created the world's smallest perfectly formed, three-dimensional world map. (Learn More >>)
New Storage Device Gets Data from Only 12 Atoms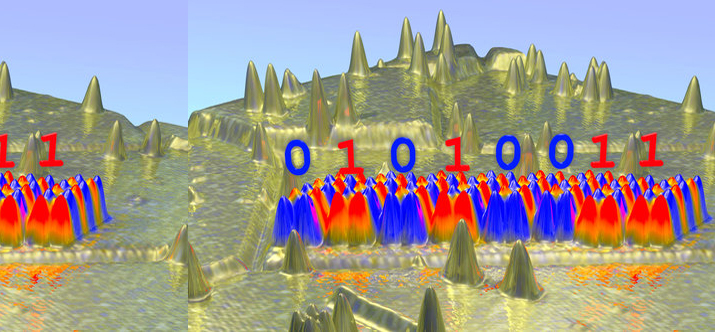 IBM researchers stored and retrieved the digital 1s and 0s in a 12 atom array, pushing the limits of magnetic storage to enable greater capacity while using less energy. (Learn More >>)
Nano-Coated Sponge Can Instantly Stop Bleeding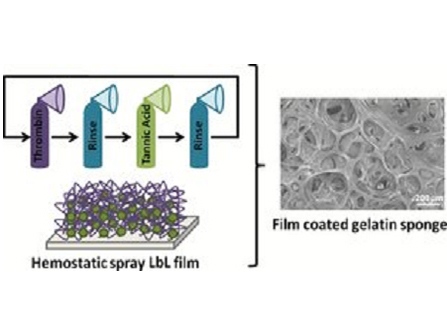 By coating a sponge with a nanoscale thin film containing thrombin, a blood clotting agent, and tannic acid, a molecule found in tea, the sponge can prevent hemorrhage, the leading cause of death in the battlefield. (Learn More >>)
Lab on a chip could revolutionize rural medicine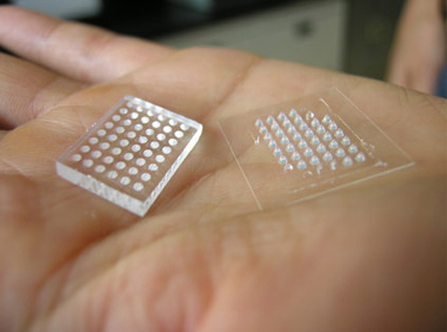 Using nanotechnology, scientists created a microfluidic chip about the size of a thumb nail that can test for a wide variety of illnesses, including infectious diseases and rare cancers. (Learn More >>)
The World's Smallest Holiday Card
Invisible to the naked eye, the card is so small that 8276 of them could fit on an area the size of a first class stamp. (Learn More >>)
Berkeley Lab creates flexible, stretchable electronics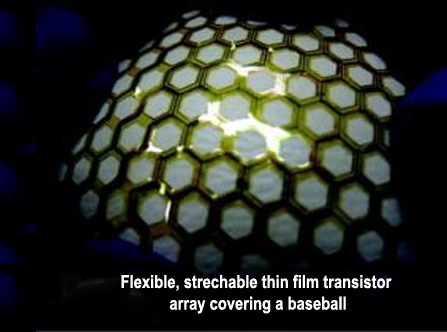 Potential applications include coatings that could monitor surfaces for cracks and other structural failures, medical bandages that could treat infections, and food packaging that could detect spoilage. (Learn More >>)
Nano coating promises smudge-proof eye glasses, touch screens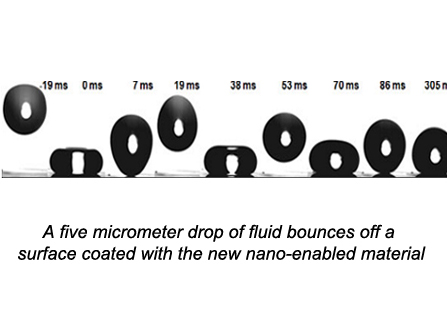 Using candle soot, scientist made a nanotechnology-enabled glass coating that completely repels both oil and water, leaving surfaces perfectly clean. (Learn More >>)
Nano-battery could last three decades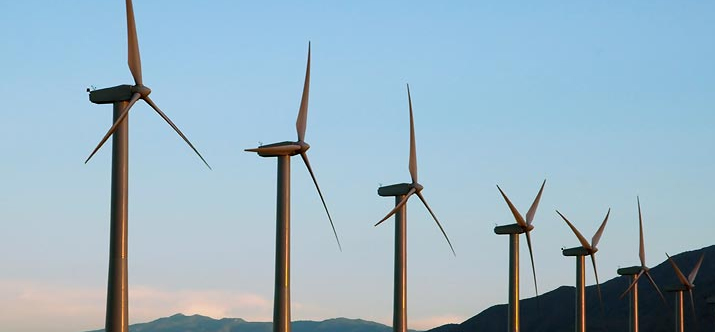 Stanford scientists developed an electrode using crystalline copper nanoparticles, a critical part of a battery that may open the door to a renewable energy power grid, including a grid possibly powered by wind, solar, or hydroelectric energy. (Learn More >>)
First-ever human trials for synthetic nanoparticle vaccine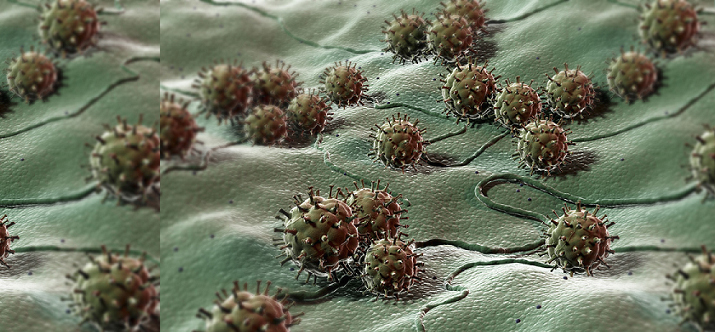 Phase 1 clinical trials will test this nanotechnology-enabled vaccine that is intended to help people stop smoking and help prevent relapse. (Learn More >>)
Scientists Create Lightest Material on Earth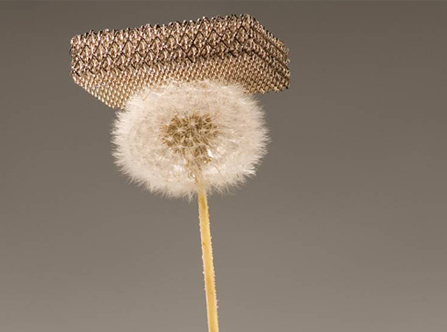 Enabled in part by nanotechnology, this "ultralight metallic microlattice" is 100 times lighter than Styrofoam and floats down like a feather when dropped. (Learn More >>)
Putting Nanorods into Cancer Cells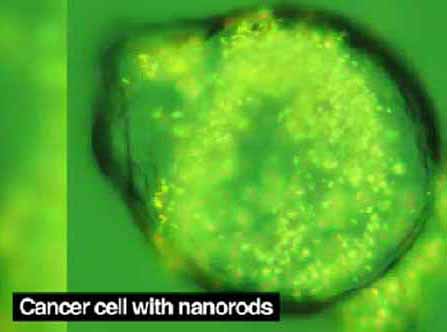 These otherwise nontoxic nanorods become deadly to cancer when heated with a laser. (Learn More >>)
Congressional Nanotechnology Caucus held event on Job Creation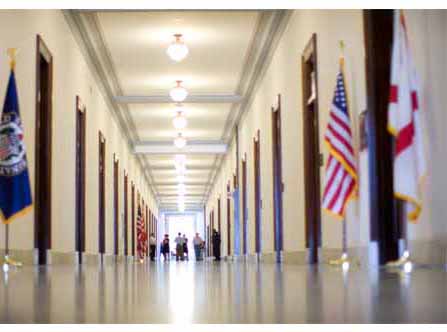 The event, held Tuesday, November 15 in the Russell Senate Office Building, was hosted by Sen. Wyden of Oregon. (Learn More >>)
Nano-enabled artifical skin has built-in touch sensors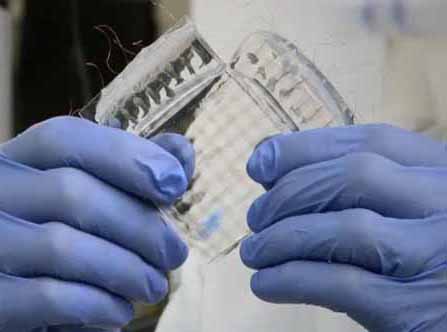 NNI funded researchers at Stanford developed a super stretchy "skin" that is flexible and touch-sensitive enough to be used in human prosthetics. (Learn More >>)
Now Accepting Questions for Today's Webinar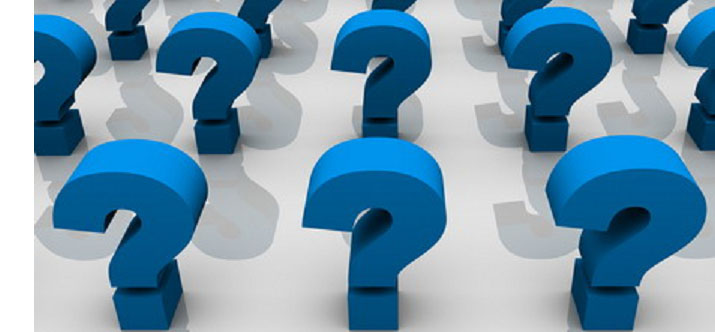 Join the webinar today at noon to learn about the 2011 EHS Research Strategy. Send your questions now to webinar@nnco.nano.gov (Learn More >>)
EHS Research Strategy Now Available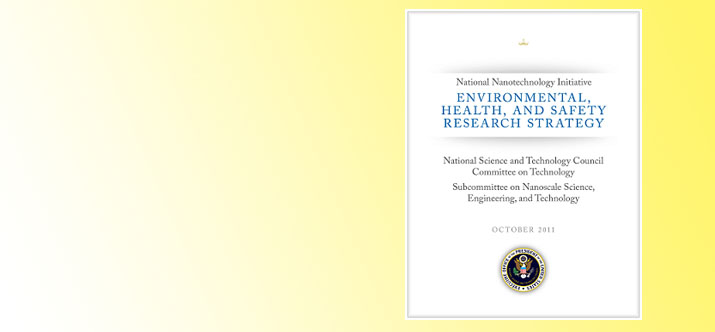 An archived version of the webinar to launch the EHS Research Strategy is now available on Nano.gov. NNI experts highlighted new elements and took questions from the public on this key strategy document. (Learn More >>)
Quasicrystals Discovery Earns 2011 Nobel Prize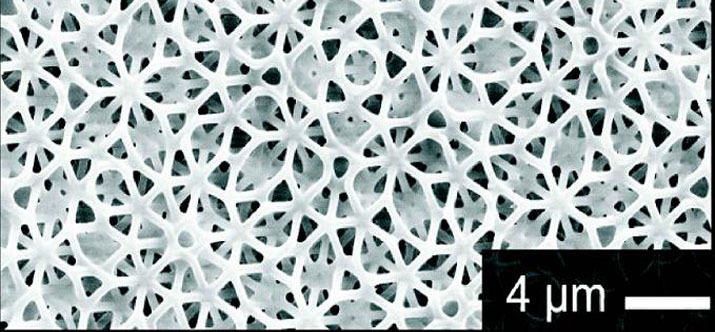 Quasicrystals revealed atoms in a nonrepeating, mosaic pattern thought to be scientifically impossible; this discovery was made possible by what we now consider the tools of nanotechnology. (Learn More >>)
Nanoparticles lift, drag, and release cargo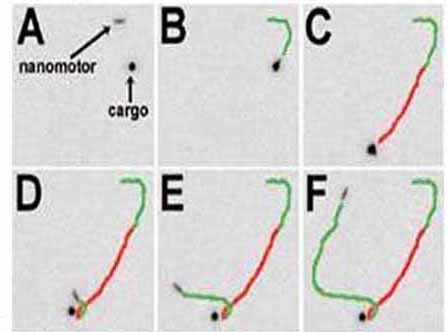 The successful remote manipulation of nano-swimmers could enable drug delivery, water purification, and bioharzard detection. (Learn More >>)
A New World Record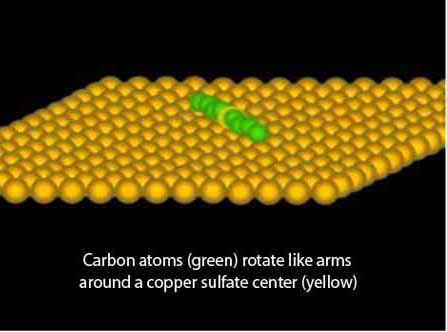 Chemists at Tufts University in Boston, Mass. are submitting their work to Guinness World Records after creating the world's smallest motor, composed of a single molecule and measuring just one nanometer across. (Learn More >>)
Itsy Bitsy Teeny Weeny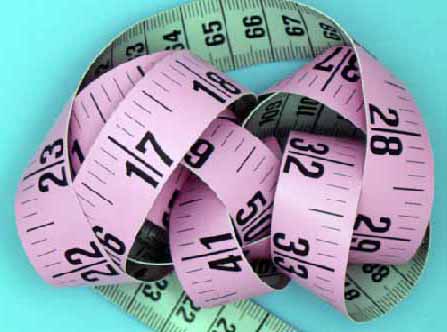 Just how small is the nanoscale? Our chart illustrates the size of the nanoscale relative to other everyday objects. (Learn More >>)
Today's Puzzle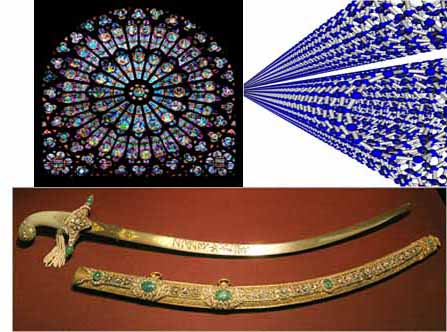 What do medieval stained glass windows and the 17th century Sword of Damascus have in common? Nanotechnology! (Learn More >>)
Graphene Possibly Detected in Space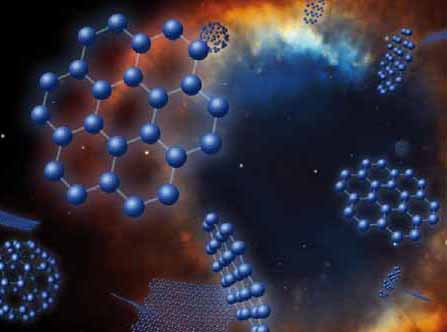 This discovery could hold clues to the development of life on Earth. (Learn More >>)
Head of the Class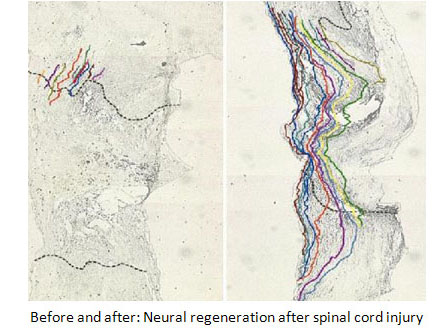 Search our database for hundreds of the NNI's greatest accomplishments in nanotechnology. (Learn More >>)
Nanotechnology Headed to Jupiter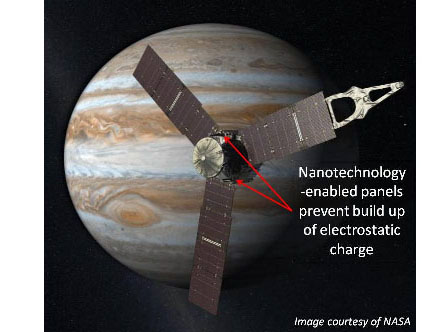 The NASA spacecraft, Juno, has nanotechnology-enabled shielding to prevent build up of electrostatic charge on key engine components. The protective shields are made of sheets of carbon nanotubes manufactured by Nanocomp Technologies, Inc. (Learn More >>)
Back to the Basics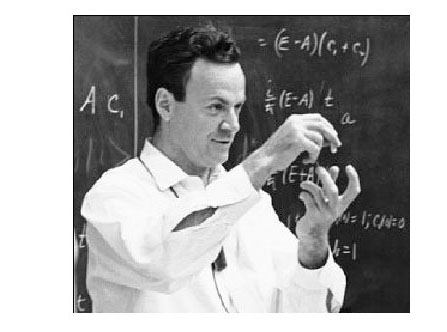 Whether you are new to nanotechnology or looking for a refresher course, this page will help round out your knowledge of the fundamentals of nanotechnology. (Learn More >>)
NNI Publications and Reports
Browse the NNI's easy-to-search online library. (Learn More >>)
nanoEHS Workshop Reports Now Available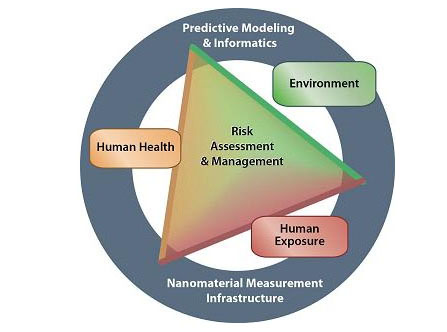 The NNI has released four reports that are the result of the "nanoEHS" workshop series, part of an ongoing strategy to coordinate nanotechnology-related EHS research. (Learn More >>)
How Can We Improve Nano.gov?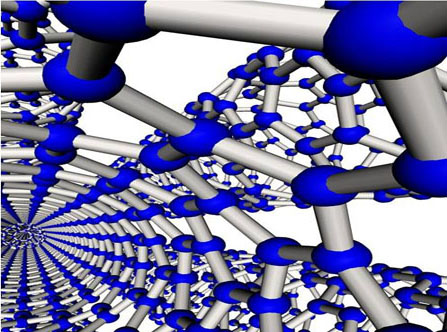 Contact us with your suggestions and ideas for how our website can better serve you. (Learn More >>)
NNI Delivers in Advanced Manufacturing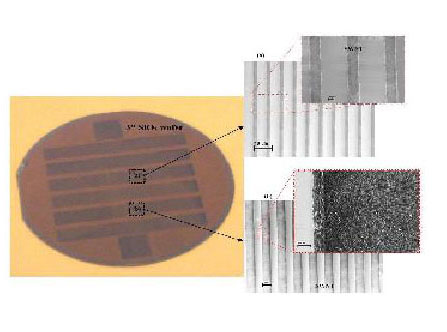 NNI member agencies have made great strides in nanomanufacturing, which aligns with the Administration's goal to pursue emerging technologies that will create high quality manufacturing jobs and enhance our global competitiveness. (Learn More >>)
The Benefits of Nanotechnology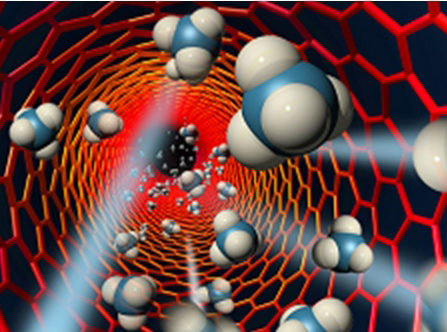 New applications are delivering on the promise of nanotechnology to benefit society. (Learn More >>)
The National Nanotechnology Investment: Manufacturing, Commercialization, and Job Creation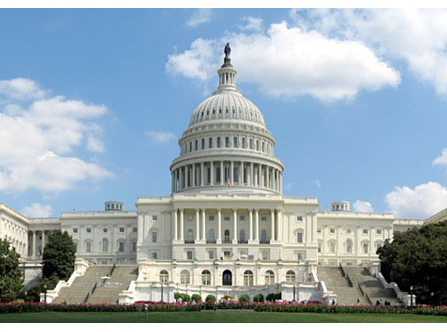 The Senate Subcommittee on Science and Space is holding a hearing on Capitol Hill July 14th at 10am. (Learn More >>)